This post contains affiliate links (I get a commission at no extra cost to you for purchases made through links in this post).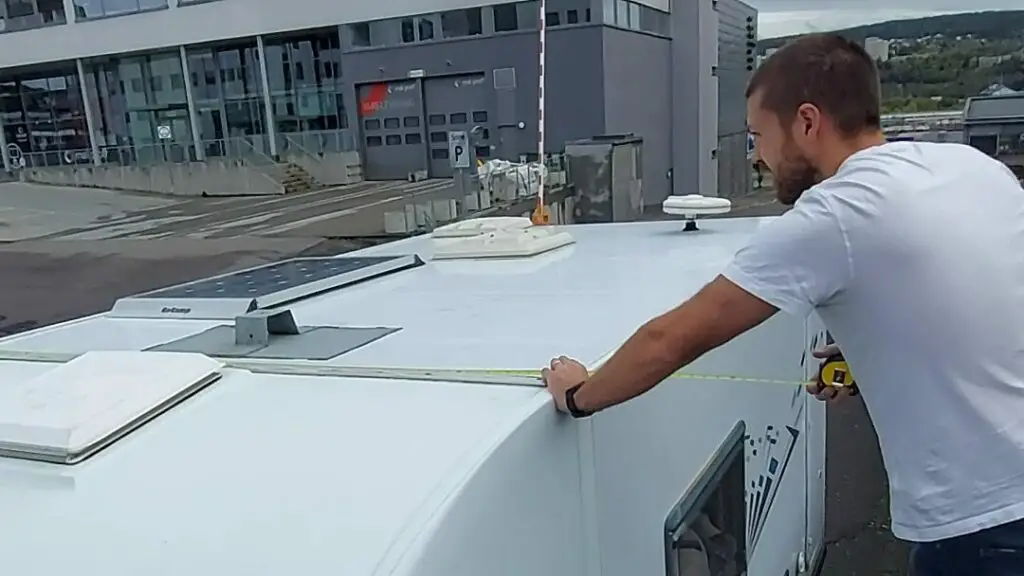 An RV Roof Sealant is a product used to seal and protect the roof of recreational vehicles from water damage. In this article, I will share with you all the best sealants in all different categories that work on all types of RV roofs!
The best RV sealants are the following: Dicor Lap Sealant – for forming a secondary seal. The best adhesive sealant is SikaFlex 221, the best butyl tape is Dicor butyl seal tape, the best RV sealant tape is EternaBond, and the best RV roof coating for any RV roof is Liquid Rubber.
Here is a table showing the best different types of sealants that can be used on any RV roof and for all different types of sealant jobs, along with ease of application and durability rating.
| Type of Sealant | Products:(Amazon Link) | Best For | Ease of application | Durability |
| --- | --- | --- | --- | --- |
| Lap-Sealant | Dicor 501 Self-Leveling Lap Sealant | Forming a secondary seal over installed items or old seals. Self-leveling is for horizontal surfaces, and non-leveling is for vertical surfaces. | Easy | Medium |
| Adhesive Sealant | Sikaflex 221 sealant | Sealing seams, hatches, and corners like a PRO. | Medium | High |
| Butyl | Dicor Butyl Seal Tape | Installing new items; seals between two surfaces. | Difficult | High |
| Emergency Seal Tape | Eternabond Tape | Emergency repairs or slide-outs. | Easy | High |
| Roof Coating | Liquid Rubber RV Roof Coating | Deteriorated roof that needs a new layer of protective paint. | Medium | Medium |
There are many different kinds of RV sealants for different types of jobs; on top of that, it is also common that RV roof sealants are made only for use on a specific roof type material, so it is important to choose one that is compatible with your roof type.
You can look up how to tell RV roofs apart here if you are interested, but there is no need since, in this article, I will focus on sealants that work for all different RV roof types! Below I will also look into my best budget pick and a DIY package option to replace the whole roof!
Best Overall: Dicor Lap Sealant 
Thanks to its advanced formula and high resistance to UV rays, moisture, and extreme temperatures, Dicor Lap-Sealant (Amazon link) is perfect for RV applications. I love Dicor products, and they typically get my best overall pick. Why?
Their customer service is top-notch, the quality of their products is always excellent, they won't break the bank, and the lap sealant is an easy-to-use product that is a great pick for most DIY RV owners.
Many RV owners already have this applied to their roofs, and maybe you have noticed some cracks in the old ones. If you want to cover those bad spots with some new ones, don't worry. As long as the old sealant isn't getting loose, you can clean it and apply new sealant on top of the old one; here, you can read more about that.
Dicor is relatively inexpensive, but it isn't your cheapest option. You're definitely paying for the product's excellent quality, but it's worth it if you can splurge a little. Most Dicor products can be bought in bulk size, too, as one tube won't last long; you usually have the option to buy larger packs.
Pros
Self-leveling and non-leveling options
Popular and trustworthy brand
Can buy in bulk
Easy to use
Cons
Difficult to find on the road 
Expensive if you're on a shoestring budget
It may require resealing over some areas that could crack every year, as all lap-sealants
Here is a step-by-step guide on how to apply Dicor Lap sealant.
Best Adhesive Sealant for RVs: SikaFlex 221 & 522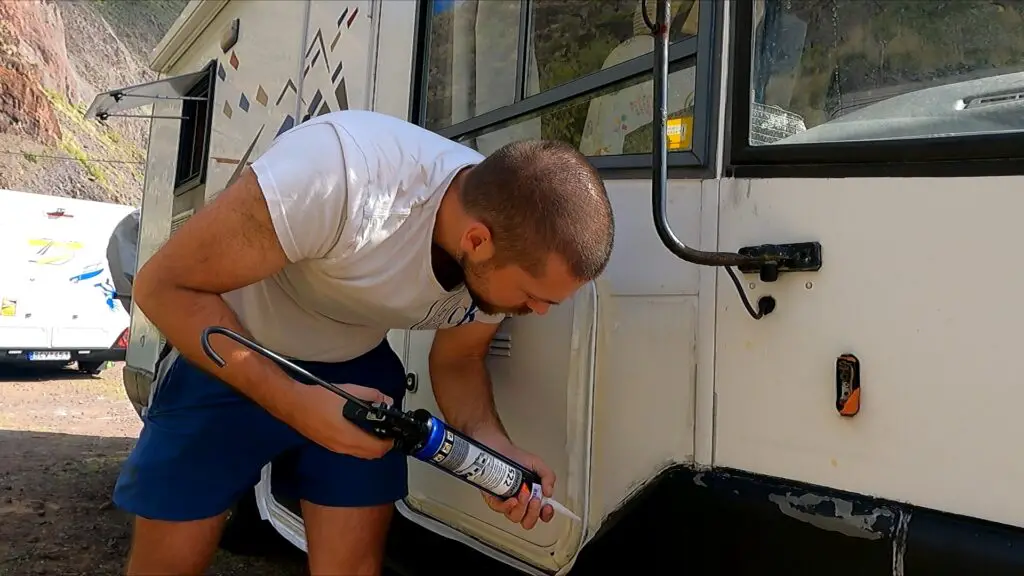 Sikaflex-221 adhesive caulking sealant (Amazon affiliate link) is a heavy-duty, multi-purpose product perfect for numerous substrates. It can be sanded, painted, and immersed in water. Sikaflex is suitable for multiple roof types and does not shrink after application.
This type of sealant has been used by RV manufacturers for more than 30 years and is a trusted, well-known brand. 
Sikaflex also offers other sealants for filling gaps and sealing joints and a super strong mounting adhesive that I have used to glue down my solar panels to the roof of my RV to avoid new screw holes. This super-strong adhesive is called Sika flex 252 (Amazon affiliate link); this type of sealant is known for its highly adhesive formula that can replace screws and bolts. 
The Sikaflex 522 is the newer version of Sikaflex 221 (Amazon affiliate link), which can be more difficult to access. Still, both of those are great sealants used by RV manufacturers, and this is my favorite go-to option.
The downside of this product is that it could be a bit difficult to apply and get a nice finish. What I like to do to accomplish a good finish is to use masking tape to cover the parts where I don't want any sealant. Then I start with a small hole in the tube and apply it slowly to control the amount.
I also apply it in shorter sections until I get a good feeling for how much I need to apply to get a good finish. A couple of months ago, I resealed a hatch, as well as the door on my RV wich, which is what you see in the picture both above and below.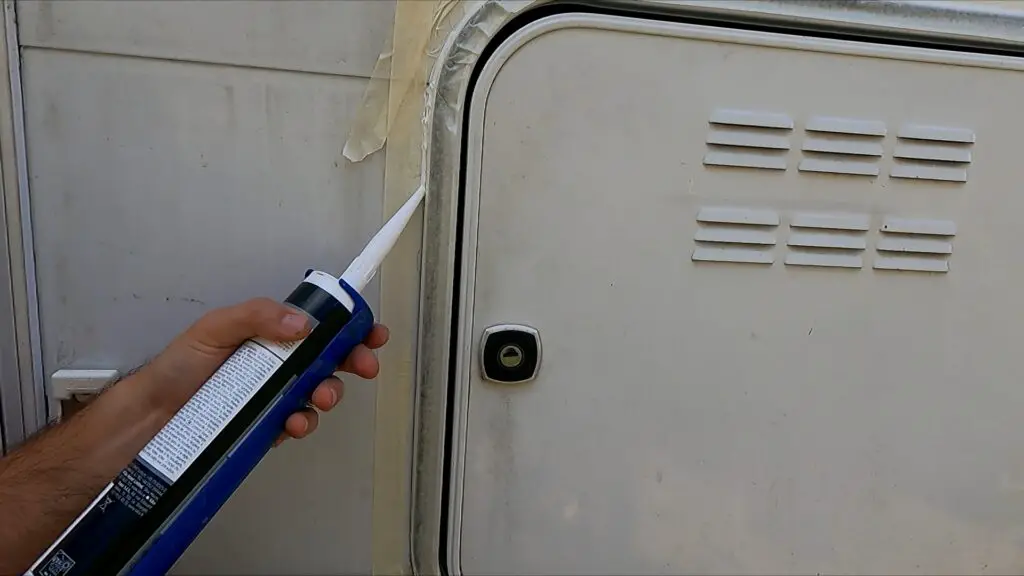 Best for Emergencies: EternaBond RV Sealant Tape
Eternabond forms an air-tight, moisture-proof seal on a range of surfaces. Many RV owners use Eternabond to prevent or stop leaks. It can repair minor holes and cracks with minimal fuss and mess, which makes it a convenient option for making repairs on the road.
Eternabond is also often used by RV manufacturers for sealing the slide-out, where maybe applying a lap sealant would take up too much space or easily get worn out/damaged. Eternabond (Amazon affiliate link) tape is available in black or white and is suitable for all roof materials.
Eternabond or any RV sealant tape should, in most cases, not be used as a permanent solution or especially not for a large area like resealing the whole roof, as maintenance (removal) will be very difficult compared to a lap sealant or Sikaflex.
Here is how to prepare the roof before applying Eternabond and here is a 7-step application guide.
Best For New Installations: Dicor Butyl Tape
Butyl tape is similar to putty tape exept is has more strech in it, it is usually the black guey stuff that causes black streaks on your RV but it is an exeptionall sealant and should be used inbetween all surfaceses of items that are attached to the RV.
As an example you should use butyl tape inbetween the frame of a RV roof hatch and the roof itself, then you screw the frame in place with the screws going through the butyl and ontop of the frame you then apply a lap sealant or an adhesive sealant.
Best Overall RV Roof Coating: Liquid Rubber RV Roof Coating 
Liquid Rubber is an incredibly versatile and durable RV roof coating sealant that can be used to create a new protective layer of what looks like thick paint. This is a great type of sealant for older RV roofs that are starting to deteriorate or lose their color.
In comparison to many other RV roof coatings, this one is not based on silicone; instead, it is a polyurethane-based, elastomeric coating. If you want to learn why that is so good, you can check out this article, where I tell you seven reasons why silicone-based sealants should never be used on RVs.
Liquid Rubber sealant is easy to apply and provides a seamless, protective barrier for years. It can be used for patching cracks and mainly increasing the lifetime of your old RV roof and prolonging the time until you actually need to replace the whole roof.
This sealant is highly resistant to UV rays, moisture, and extreme temperatures, making it the ideal choice for outdoor applications. Liquid Rubber makes this list due to its many fantastic reviews on Amazon. This sealant has hundreds of happy customers and five-star ratings on the seller's page. 
Pros
Waterproof 
Mold and mildew Resistant
Incredibly versatile
Not silicone-based
Cons
Not the cheapest option on this list
Needs primer
Best Budget Pick: Geocel Pro Flex RV Sealant 
Geocel Pro Flex RV Sealant (Amazon link) is another adhesive sealant that offers great adhesion to various surfaces, and its flexibility allows it to conform to changing temperatures and weather conditions. It has a good reputation and is for similar usecases as SikaFlex.
I haven't used it yet and still waiting to try it but from what i have gathered and understand it might be a bit easier to apply than SikaFlex but it won't have the same durability that SikaFlex does, however it is a good option for making cap-seals around windows, hatches or RV doors.
It's actually the least expensive pick on this list! 
Additionally, its non-yellowing properties allow it to maintain a bright and pristine look for years to come, making it an ideal choice for protecting your RV's exterior if you want an easier and cheaper application than SikaFlex. (Amazon link)
Best DIY RV Roof Replacement: Rexoseal RV
Rexoseal (Amazon Link) is an excellent option for replacing/resealing your whole RV roof. It's a high-performance elastomeric sealant that offers superior adhesion and flexibility, powerful enough to actually completely replace your roof. It's easy to apply and provides a strong bond that lasts for years. 
Rexoseal is a great DIY option as it comes complete with instructional videos on how to do the job, it will work on all types of RV roofs.
It is an expensive option but to make a fair comparission you would probably have to get a couple of gallons of liquid rubber, a couple of tubes of SikaFlex and Dicor lap sealant to get a similar short term result so maybe in the long run it would be the better option to go with Rexoseal if your RV roof is really worn down.
I have never tried it but it sure do look like a great option that I would seriously consider if my roof was in really bad shape. If you compare the price with having a new roof installed at a dealership or just even resealed this would actually save you a significant ammount.
What To Look for in an RV Sealant
While I have some favorites, the best RV sealant for you depends on your needs. 
Here are some things to consider when selecting an RV sealant:
Waterproof properties. Are you traveling in areas with heavy rainfall or freezing temperatures? Do you have leaks already forming in your roof? Waterproofing is critical here. 

Weather resistant. This is especially important if you're traveling somewhere with extreme temperatures, as you don't want the heat to ruin the adhesive. In such cases, an RV sealant that can withstand a wide range of temperature fluctuations is ideal. 

Easy to apply. Do you mind a project that involves a lot of time, labor, and tools, or do you need something simple? In such cases, look for ease of use when selecting an RV sealant. 

Doesn't require tools. Make sure you have the necessary tools before buying the RV sealant. If not, determine which ones you'll need and consider buying them with your RV sealant to save yourself time and hassle. 

Fits your budget. If you're on a tight budget, it will be essential to shop within it. How high quality of a project can you afford on a smaller budget? 

Aesthetically appealing. If you can afford it, a sealant that isn't visible will be worth it. Cheaper brands typically leave a layer of residue that's pretty noticeable. 
Again, your priorities will depend on where you travel, how often, and your budget. 
Coating vs. Sealant
Coating and sealants differ, but they belong in the same category. 
An RV roof coating is usually liquid, comes in a paint-like bucket, and can be rolled onto the top of your RV. Coatings are also used for weatherproofing and helping to seal leaks.
A sealant is like caulk and can be used in specific areas of your RV to seal leaks and cracks.
The terms are often used interchangeably, and for the ease of helping you with your RV needs, I've included the likes of both on the list above. Remember that it's not an either-or situation. In fact, using tapes, sealants, and coatings in tandem is the best way to protect and seal your RV roof when done correctly. 
How To Use Sealant 
Sealant is relatively easy to use and typically involves the following steps:
Inspect the area where you'll apply the sealant. 

Look for any cracks or holes, and ensure your RV's surface is clean and dry. If not, clean the area with Simple Green or a reputable RV cleaner. 

Open the sealant container and remove the cap from one end. You'll see a straw-like applicator attached to it; this is what you'll use to apply the sealant.

Apply the sealant over the damaged area.

Let the sealant dry for as long as the product's instructions require.
If you're using the paint or coating type, the steps are a little more hands-on:
Clean the surface and allow the surface to dry completely before proceeding.

Paint or roll on a layer of RV sealant to the surface using a brush or roller. Be sure to cover all RV surfaces with sealant, including any cracks or holes in the structure that let water in.

Let the area dry for approximately 24 hours before driving your RV again (this will depend on your local climate).
Consider using tapes and caulking-type sealants in tandem before or after using a coating sealant as their properties are all different as we have discussed under each one in this article.
Final Thoughts
Whether you're a seasoned RV owner or just getting started, one of the most important things to remember when using your vehicle is how to seal it properly.
Choosing the best RV sealant product is an important decision. You should look for a waterproof and UV-resistant product designed to bond to many materials. Additionally, you should ensure the sealant tape is flexible, easy to apply, and requires no special tools or primers. With the right product, you can quickly and easily make repairs and keep your RV in top condition.