This post contains affiliate links (I get a commission at no extra cost to you for purchases made through links in this post).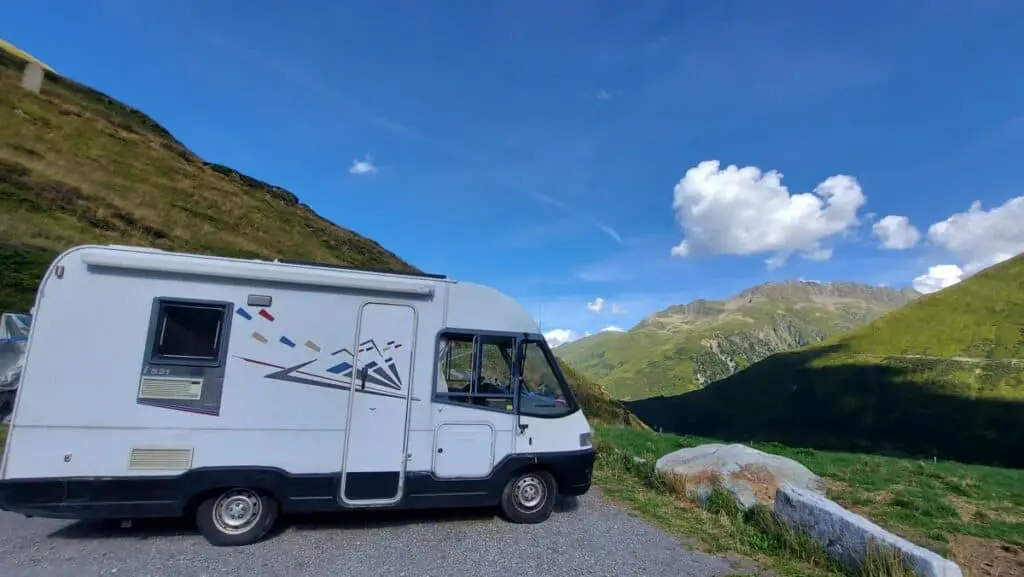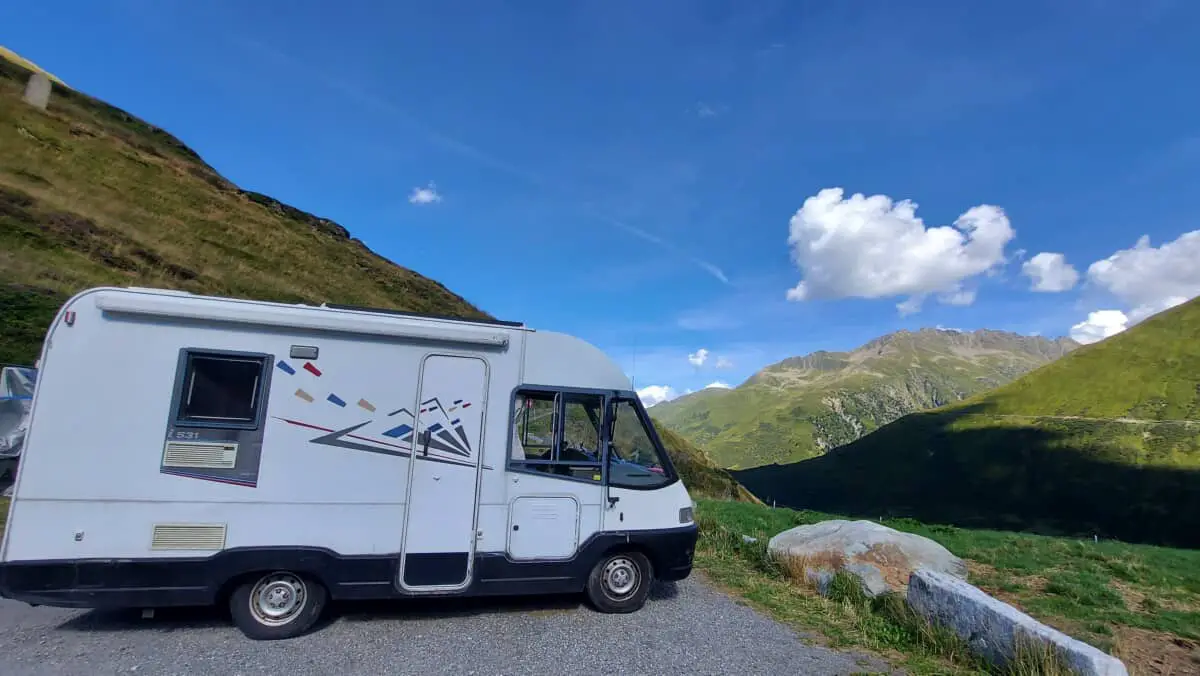 EternaBond is a sealant tape that's useful for almost all types of roofs and their accessories. These roofs include cargo trailer roofs, RV roofs, and building roofs. Interestingly, one issue many users have is preparing to use EternaBond tape on a roof surface. 
To prepare for using EternaBond tape on an RV roof, clean the surface properly, then spray a coating of EternaPrime over the area. The coated area should be about an inch wider than the circumference the tape would cover. The EternaPrime is especially important in colder weather or on a dirty surface.
This article will briefly examine how to prepare your RV roof before applying EternaBond, the type of products and tools to use, and other important information.
Preparing the Surface of Your RV Roof 
Preparing the surface of your RV roof before applying EternaBond tape is a huge determinant of how successful its application will be. This preparation includes cleaning the surface, thoroughly wiping it, and applying the surface conditioner (primer). 
Clean the Surface
Cleaning the surface of your roof is a critical first step because the surface must be free of all contaminants, which include oils and dust. Here's how to clean different types of roof surfaces. 
TPO and PVC – Scrub the surface to remove dust and any form of coating
Metal and Fiberglass – Clean off any dust or oil that may have accumulated on the surface.
Products and Tools To Use 
Scrubbing Pad – Many recommend using a product like Scotch Brite. It is a scrubbing pad that's suitable for use on all types of surfaces. It is also an excellent alternative to wire brushes, steel wool, and sandpaper. You may want to check out the 3M 07447 Scotch-Brite Maroon General Purpose Hand Pad (available on Amazon.com). It has the mentioned features and will help you get a good finish. 
Specialized cleaning products – Depending on the material of your roof, you may need to pick up a specialized product that will clean without damaging the surface. If you were thinking about using normal soap like Dawn, DON'T! as it is petroleum based, it could even void your warranty; if you want to know why I have an article about it here.  Instead, if you are looking for an all-purpose product, use simple green instead; yes, it is safe for RV roofs. You can read more about it here.
EternaClean – Yes, the same brand has a specialized cleaning product as well that you can use in this process; you can find it here on amazon.
Hose or Bucket of water– You need a hose, bucket, or container for water as you will be on top of the RV roof.
Rag/Dish Towel – This is useful for wiping off the water as you scrub.
Here's how to clean your roof with these tools. 
Clear the roof of loose and easy-to-remove debris and dust with a soft cloth. 
Wet the top of the roof. 
Dilute your cleaning product in water or as described on the product.
Dip your scrubbing pad into your cleaning solution, then use it to scrub the roof gently. 
Work in sections, getting the roof fully clean, then wet it again. 
Direct the water, so the grime running off the roof doesn't stick to the sides of your RV. 
Wipe the water off after you're done.
Check for any spots you might have missed and scrub those independently. 
Get Rid of Old Grime and Prime the Surface
After scrubbing the surface, you need to wipe it down to get rid of old stains and grime to help the EternaBond Tape adhere to the roof better. The dirt and other contaminants may stick to the rag as you wipe. Therefore, you must change the rag after using it for a while and rinse it after each swipe. 
Products and Tools To Use 
Solvent – If your roof is anything other than fiberglass or PVC, you might need a solvent to achieve a perfect finish. Do not use solvents on PVC or fiberglass. Some solvents include brake part cleaner, EternaClean, lacquer thinner, and the like. Do not bother using alcohol because it may not be effective.
EternaClean Amazon link.
EternaPrime Tape Primer and Surface Conditioner – This product is your best bet if the solvent doesn't work or if it is cold outside and you want to ensure good adhesion. It is an easy-to-use aerosol spray that coats any contaminant on the surface with the same resins in EternaBond to ensure a strong, durable bond. Remember that using EternaPrime is in addition to cleaning and does not substitute for the cleaning process. Do not use this product on PVC roofs. EternaPrime amazon link.
Sets of Rags – You will need more than one rag to wipe down the washed surface. It will also be useful for applying the solvent. 
How To Use EternaPrime Tape Primer and Surface Conditioner
Here's how to apply the EternaPrime Tape Primer and Surface Conditioner correctly. 
1. Shake the EternaPrime Tape Primer can very well and ensure you keep doing so throughout the application. 
2. Spray every surface on which the tape is applied; ensure it is 1 inch wider than the area it will cover. All you will need to apply is a medium coat.
If you apply the medium coat correctly, it will look damp but dry very fast, so don't worry. You have to be careful not to lay it on too thick because this will make the primer run. At the same time, ensure that your coating isn't too thin, or it will get patchy and will be ineffective in ensuring complete adhesion. 
Applying EternaBond Tape
One crucial factor to remember is that you must always keep the tape at a temperature not lower than 70°F(21°C). The higher temperatures help the tape adhere better to the surface. 
Many OEM customers store their EternaBond Tapes in a hotbox during winter. 
Now let's go on to the process of application. 
Place the tape gently while allowing it to match the surface exactly. 
Do not over-stretch the tape; you shouldn't stand a long space away and pull it taut to adhere it to the surface. 
The best way is to lay the tape gently, bit by bit, and then apply pressure on the contact points to help the tape adhere properly. 
Tools To Use 
You can use three standard tools to apply this tape. They are your fingers, a flat steel roller, and a V roller. A flat roller is best for flat surfaces, a V roller for inside corners, and your fingers for screws and tight areas. 
Since we are talking about using this tape on an RV roof, this surface is mostly flat, so you'd use a flat roller to adhere the tape to the surface. 
The term 'flat roller' refers to the seamless surface of the roller. 
The EternaBond 2.5 lb 2-1/2″ Wide Curved-End Ball Bearing Steel Roller (available on Amazon.com) is an excellent example of the type of roller to use for applying the EternaBond Tape on an RV roof. It comes with the following features, which gives it the advantage it provides for users. 
An easy grip handle with a contour designed to help the user maintain control while exerting the force needed to adhere the tape to the surface solidly. 
A 2 ½ inch wide, ball-bearing, curved end that ensures easy application. 
Top quality and durable materials such as premium steel for the head and good quality wood for the handle.  
A smooth surface that rolls freely.
Here are some pros and cons of using one. 
Pros 
It provides a comfortable grip. 
It is easy to use because of the smooth surface that spins effortlessly.
The roller helps the tape adhere solidly and permanently on the roof surface. 
The roller is made of steel for durability. 
It's versatile and can be used on all types of roof surfaces. 
Cons
It's pretty expensive.
Some customers complain that it is too heavy. 
It can easily rust if left in a toolbox without frequent oiling. 
Additional Tips For Applying EternaBond Tape
Note that it is imperative that your RV roof is completely leak-proof to avoid more severe issues in the long run. Ensure that every area of the roof is adequately sealed, and go over the sealing and caulking of your roof before you prep it for the EternaBond Tape if necessary. 
Screws – You need to apply special care to any area with screws or other points that will cause the tape to dent, including vent flanges and screw heads. You should use the tape under the screw heads. If you must place it above the screw head, then ensure that you keep a distance of 1 inch from the center of the screw head to the edge of the tape, or use EternaPrime before laying the tape. 
Tight Corners – For tight corners, cut the tape and fold it as if you want to wrap a package. Do not over-stretch or squeeze the tape. 
Is EternaPrime Necessary? – The answer is yes if you are in a region with low temperatures. The primer will help take loose particles and turn them into a solid surface, allowing the tape to adhere far more easily and solidly. So if the temperature is anywhere between 40°F (5°C) and -20°F (-29°C), you must use EternaPrime (Amazon affiliate link)to prep the surface. 
You can watch this video for a brief tutorial on how to prepare your RV roof and apply EternaBond on it:
Alternative Products That Can Be Used To Reseal RV Roofs
Because manufacturers use the lightest of materials to construct RV roofs (to keep the weight down), it is necessary to maintain the roof well. 
Ensure you reseal the roof annually and inspect it at least every six months or after use through harsh weather and rough terrain. Learn more about why it is important to do this and to what extent you should be doing it here in my other article.
If you can't get a hold of EternaBond Tape or don't want to use it, here are some alternatives that also work for resealing RV roofs. 
Ziollo RV Flex Repair Silicone RV Roof Sealant 
The Ziollo RV Flex Repair Silicone RV Roof Sealant (available on Amazon.com) is 100% silicone and offers several features. The following are some of its features:
It's made with non–hazardous ingredients that are non-toxic to humans and pets.
It creates a waterproof seal that doesn't crack easily. 
The product is compatible with other common products you might use to repair your RV. 
You can use this sealant on metal, EPDM rubber, wood, and fiberglass roofs. 
It comes with a lifetime warranty. 
How To Use 
Clean the roof.
Complete the prepping process with any RV flex repair product.
Start with a brush and apply a heavy coat of the product on the areas your roller will not reach.
Roll on a heavy first coat to the whole roof.
Apply a final coating.
Conclusion
To prepare your RV roof to apply EternaBond tape, you need to clean the surface thoroughly with a scrubbing pad and soap, wipe the whole thing down, then prime it correctly. Using the right tools and products, including the EternaBond Primer and Surface Conditioner, can help improve the tape's bonding to your rood.
A package deal with EternaBond Tape, EternaClean, and EternaPrime can be found here on Amazon.
A flat roller is the best way to get the tape onto your roof, even if it is expensive and heavy. If you can't use the EternaBond tape, there are alternatives, and you can choose what will work best for you.