This post contains affiliate links (I get a commission at no extra cost to you for purchases made through links in this post).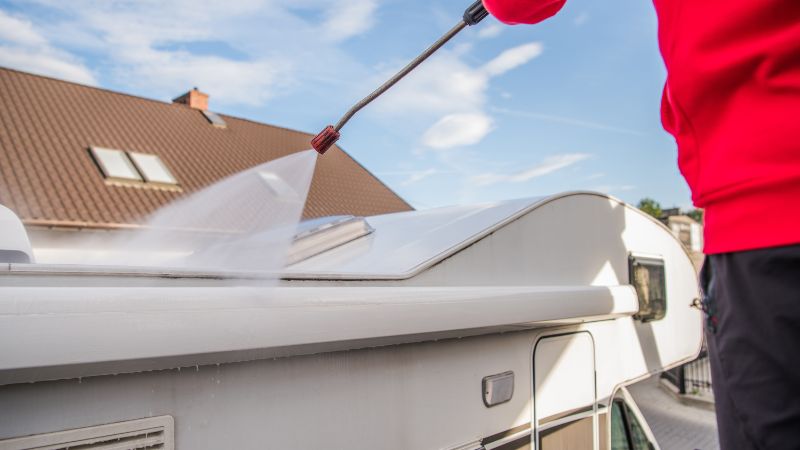 An RV is a significant financial investment, and it's natural to want to take care of it as much as possible. If you need to clean your RV roof, can you use Simple Green? 
Simple Green is safe for RV roofs. You can safely use it to clean your RV's roof using a 1:10 dilution. It's safe for both rubber and fiberglass RV roofs. Simple Green has no solvents, abrasives, or petroleum distillates that may damage your RV.
This article will explain more about using Simple Green to clean your RV's roof. I'll also discuss other cleaning product options for your RV roof. Let's dive right in! 
Can You Clean Your RV Roof With Simple Green?
You can clean your RV roof with Simple Green because it won't corrode or damage it. Further, the cleaner is potent and can eliminate most dirt and grease in one cleaning session.
You should avoid using petroleum-based cleaners to wash rubber RV roofs because it can damage them and void your warranty. Cleaners that contain bleach (chlorine) can also damage RV roofs. 
How To Clean an RV Roof With Simple Green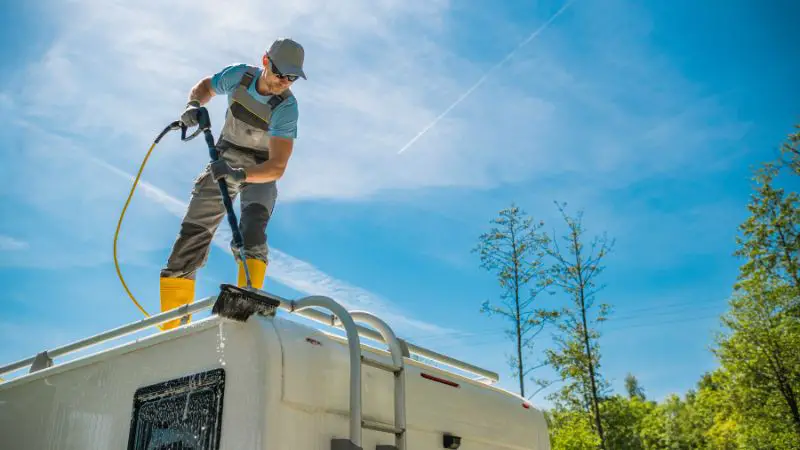 To keep your RV's roof clean and stain-free, you should clean it at least every quarter. While the manufacturer will likely give you a warranty of up to 10 years, you can enjoy your roof for 20 years or more if you take good care of it. 
Simple Green is a fantastic product to use for this job, and you can follow the steps below to clean your RV's roof: 
Remove loose dirt and debris with a broom or hosepipe. Eliminating excess dirt and debris on the roof will simplify cleaning. A soft-bristled broom works well, but using a hosepipe is easier. 
Mix Simple Green with cold water to create a cleaning solution. Combine 1 part Simple Green with 10 parts water. 6 ounces (2 dl) of Simple Green with half a gallon (2 liters) of water for a moderately dirty roof will work just fine.
Wet the roof and sides of the RV. Using a hosepipe is the easiest way to do this. Spraying the sides of the vehicle will help you avoid the contrast of clean streaks against a dirty surface when the cleaner drips down the side.
Apply the Simple Green cleaning solution. With a mop or soft-bristled brush, apply the cleaning solution on the roof and brush off the grime and dirt. Because the cleaning solution is more challenging to remove when dry, you should clean and rinse the vehicle in sections as you go so that the solution doesn't dry off before you rinse it.
Rinse the sides of the vehicle. To avoid having streaks on the sides of the RV, you should also thoroughly rinse the sides.
Repeat the process for stubborn dirt. One clean should be enough to get your RV's roof looking as good as new. However, you should repeat the process if stubborn dirt remains. 
What Is the Best Product To Clean RV Roofs?
The best product to clean RV roofs is a safe cleaner with no abrasive substances such as petroleum distillate and chlorine. Products such as Simple Green All-Purpose Cleaner, Spic and Span, and Mean Green are suitable.
These products are widely available online; you can order them via my amazon affiliate link right here to the right or get them at grocery stores or in big box stores. An advantage of using them to clean your RV's roof is that you can use them to clean other objects and areas in your home. 

If you're concerned about using Simple Green for your RV's roof, below is the product's complete ingredient list for peace of mind:
Water
Sodium citrate
C9-11 alcohols ethoxylated
Sodium carbonate
Methylchloroisothiazolinone
Tetrasodium glutamate diacetate
Methylisothiazolinone
Citric acid
Liquitint colorant
Fragrance
Some of these ingredients sound complex, but a simple Google search will reveal that they are safe to use on an RV's roof. 
You have plenty of options if you'd like to use a specially formulated product for RVs. Some excellent recommendations from Amazon include: 
Why You Should Use Specialist RV Cleaners
While using all-purpose cleaners such as Simple Green is ideal, cleaners made specifically for RVs, such as the ones mentioned above, may be superior in certain respects. 
You can always find a cleaner that fits your cleaning style as they come in various options, including rinse-free, spray bottle, and concentrates. Here are some compelling reasons to consider using a specialist RV cleaner for the roof: 
Specialist RV Cleaners Add Protection
RVs often operate in extreme conditions that expose them to constant environmental elements, such as rain, UV rays, and pollutants. Some RV cleaner manufacturers account for this reality and create their cleaning products with a protective coating to protect your RV from damage. 
Specialist RV Cleaners Are More Effective at Cleaning RV Roofs
Since most RV roofs are made of rubber, it's not a good idea to use random household cleaning products as they could cause damage. RV cleaners are designed to effectively remove the dirt that your RV collects, such as dust, tree pollen, and sand. 
Using an all-purpose cleaner is effective but may not be as efficient as a specialty product when it comes to removing outdoor grime from your RV. 
Specialist RV Cleaners Offer Cost Savings
An RV that is well taken care of can serve you well for many decades. Using high-quality cleaners that won't corrode surfaces while also protecting the same surfaces with a protective layer can lead to financial savings in the long run. 
Final Thoughts
When you take good care of your RV, it can serve you well for several decades. Keeping your RV's roof clean and giving it a good wash every three months will help it look as good as new for longer.
Simple Green is a fantastic cleaner for your RV's roof, but you can also use a specialist RV roof cleaner.