This post contains affiliate links (I get a commission at no extra cost to you for purchases made through links in this post).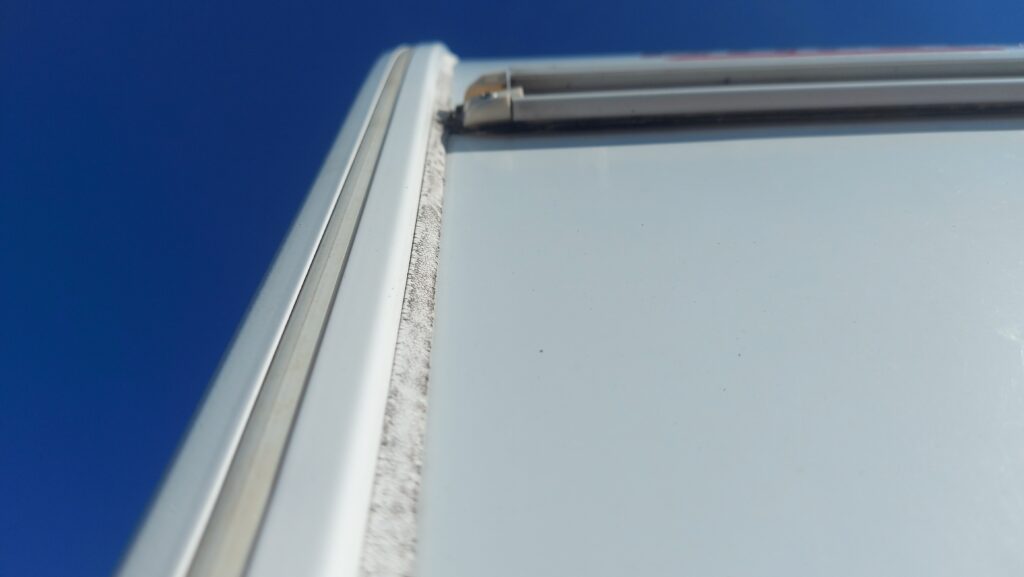 Every RV owner dreads the sound of dripping water inside their mobile home. The sealant on your RV should be checked every six months and replaced every three to five years to maintain the watertight seal. With so many RV sealants on the market, how do you know which is best?
The most common sealant brands RV manufacturers use are Sikaflex, Dicor Lap Sealant, Proflex RV Sealant, and Eternabond sealant tape for some slide-outs. The brand and type of RV sealant may vary depending on your RV roof material. 
RV manufacturers recommend using the correct sealant for your RV type to get the best long-lasting seal. We will explore the different RV sealants recommended by manufacturers in this guide. 
What Is the Best Sealant for RVs?
The best sealant for your RV is the brand that matches your RV or motorhome's specifications. Some RV owners prefer sealant tape to protect the original seals' which I don't; I would only recommend sealant tape in an emergency, repair of a hole, or above slides since they are a pain to replace.
Choosing the proper sealant for your motorhome is a task that requires plenty of research and information from your preferred RV manufacturer.
There are three main types of RV sealants for this job that RV manufacturers use:
Self-leveling sealant
Non-self-leveling sealant
Adhesive caulking sealant
Sealant tape
Each type of RV sealant or caulk has pros and cons. For example, high-strength sealants flow poorly and offer low flexibility, but they are excellent for creating a watertight seal. The area you need to seal should also influence your chosen product. 
Popular RV Manufacturer Recommended Sealants
Choosing a sealant can be confusing due to the many options available. Reading manufacturer recommendations and reviews is an excellent place to start your research, but here come the most popular sealants among RV manufacturers. 
Dicor Lap Sealant
RV manufacturers recommend Dicor sealant due to its versatility and overall performance. It has strong adhesion to prevent water damage from heavy rain and snowfall. Dicor offers self-leveling and non-self-leveling sealants for various applications and is one of the most popular RV sealant brands.
The self-leveling lap sealant from Dicor (Amazon affiliate link) is meant for the roof or horizontal surface since it levels out by itself so It looks good without you needing to mess around with it after application.
Suppose it is applied on a vertical surface like a wall. In that case, it will start running down against the wall, so that's why you need to use the non-sag or non-leveling lap sealant (Amazon affiliate link)for vertical surfaces, those stay put, and you need to be more careful with application and shape it nicely afterward instead.
Dicor sealants come in six different colors and work well on most materials. They also make a butyl sealant tape (Amazon affiliate link) that is perfect for sealing windows and vents; it is applied between two surfaces, so it goes in between the vent or roof hatch and the roof or wall and then around the edge, the lap sealant is used.
Dicor is a high-quality brand that will give your RV long-lasting protection from the elements that many RV manufacturers and RV technicians recommend.
Eternabond Sealant Tape
Eternabond forms an air-tight, moisture-proof seal on a range of surfaces. Many RV owners use Eternabond to prevent or stop leaks. It can repair minor holes and cracks with minimal fuss and mess, which makes it a convenient option for making repairs on the road.
Eternabond is also often used by RV manufacturers for sealing the slide-out, where maybe applying a lap sealant would take up too much space or easily get worn out/damaged. Eternabond (Amazon affiliate link) tape is available in black or white and is suitable for all roof materials.
Eternabond or any RV sealant tape should, in most cases, not be used as a permanent solution or especially not for a large area like resealing the whole roof, as maintenance (removal) will be very difficult compared to a lap sealant or Sikaflex.
Sikaflex-221 or 522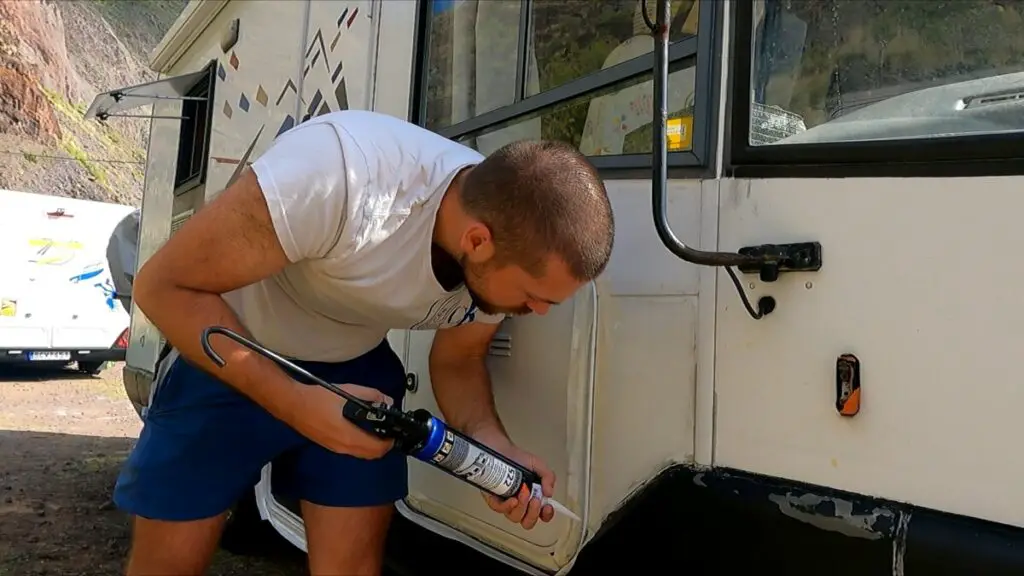 Sikaflex-221 adhesive caulking sealant (Amazon affiliate link) is a heavy-duty, multi-purpose product that is perfect for numerous substrates. It can be sanded, painted, and immersed in water. Sikaflex is suitable for multiple roof types and does not shrink after application.
Sikaflex also offers other sealants for filling gaps and sealing joints and a super strong mounting adhesive that I have used to glue down my solar panels to the roof of my RV to avoid new screw holes. This super-strong adhesive is called Sika flex 252 (Amazon affiliate link); this type of sealant is known for its highly adhesive formula that can replace screws and bolts. 
The Sikaflex 522 is the newer version of Sikaflex 221 (Amazon affiliate link), which can be more difficult to access. Still, both of those are great sealants used by RV manufacturers, and this is my favorite go-to option.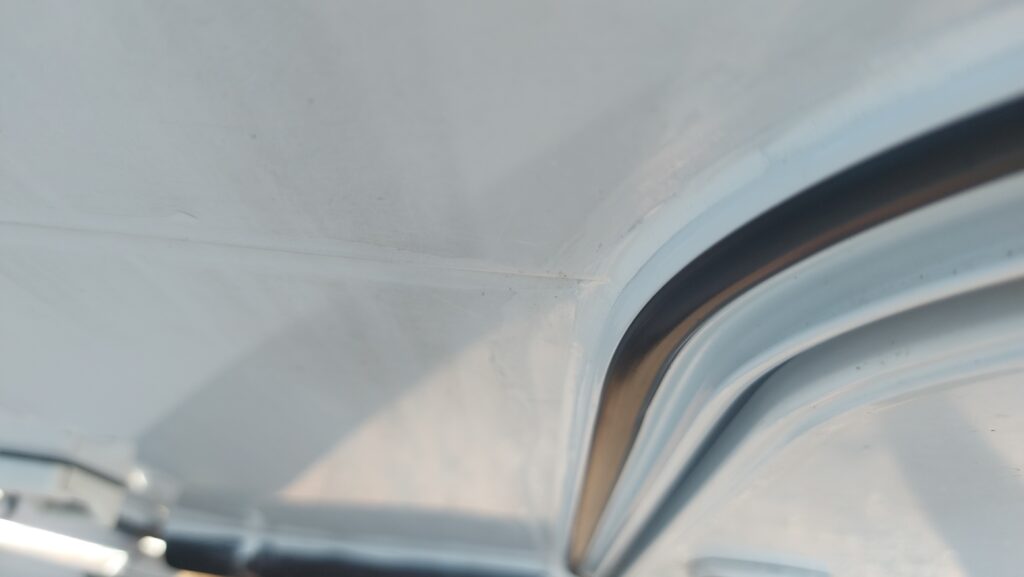 Choosing the Right RV Sealant and Caulk
Choosing the correct RV sealant for your vehicle is vital if you want to protect it from the elements. Your mileage, location, and usage will all affect your decision-making process. Take your time when doing your research to make sure you select the perfect sealant for your RV.
In most cases, I would recommend a combination of all products mentioned above, the Sikaflex 221 to redo all the seals properly if they are bad, and then a second layer of Dicor lap sealant on top of the roof seals to ensure the roof won't leak and since it is easy to maintain.
The Eternabond tape for eventual slide-outs or emergency repairs and the butyl tape if you are replacing or attaching something that is connected to the outside of the RV, like a hatch, vent, window, or similar.
Identify the RV Roof Material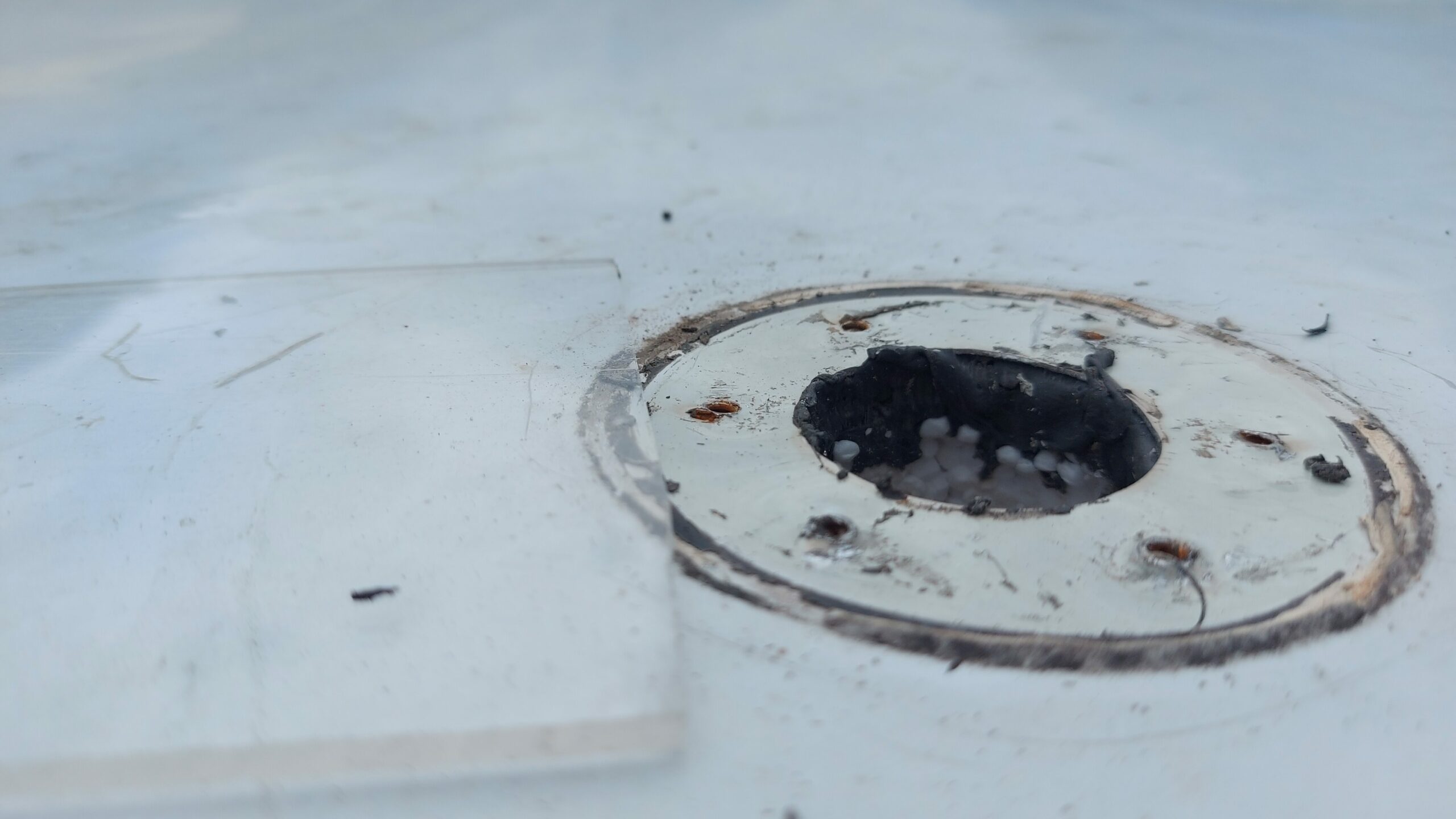 The most common types of RV roofs are thermoplastic polyolefin (TPO) and ethylene-propylene-diene terpolymer (EPDM). Other RV roof materials include aluminum, fiberglass, vinyl, or rubber. It would help if you chose an RV sealant that is compatible with your roof material to avoid damaging the exterior surface of your motorhome. 
Some sealants are made specifically for TPO and EPDM RV roofs. Check the packaging and instructions before you commit to a purchase. 
Damage Level
If your RV has extensive damage like water damage or mold, most RV owners will leave a large job like that to the professionals. Minor damage or normal maintenance can be treated by most RV owners who like a DIY job, but you can expect to spend a lot of time resealing a whole RV.
I just started the mission of resealing my whole RV, and I do it bit by bit and choose one thing like the door or a hatch at the time for now, but that is also since im out traveling and don't have any good ladder available right now, but when I do its time for the roof again.
Weather Repellant
RV sealant should protect your vehicle from weather-related damage. No matter where you drive, your roof will be exposed to large amounts of heat from the sun. This can damage the seals on your rig. Check if the sealant is UV repellant and protective against the elements before you buy.
It is handy to keep sealant on board in case you experience water leaks and are in need of an emergency repair job; I would recommend always carrying a small roll of Eternabond or a tube of Sikaflex 221.
Preparation Time
It would be best if you cleaned your RV before you applied any sealant and removed any old, flaky adhesive. Some sealants require two coats before they start protecting your RV. Sealant tape is a quick and easy fix if you do not have time to prepare the surface. 
You may need to spend some time removing old sealant and cleaning the roof if it is a large job. You should plan to spend a few days working on your RV if you need to treat the entire roof. If you don't have an indoor space to work on your RV, you may need to consider the weather before applying new sealant.
Conclusion
RV manufacturers will often recommend a self-leveling sealant for your RV. Before you select a sealant, you should check the following:
Assess the damage on your RV
Identify the roof material
Consider whether you need a flexible or rigid seal
Your chosen RV sealant should protect your rig from sun, wind, and rain without cracking or flaking. If all else fails, you can contact your RV manufacturer to ask which sealant is best for your specific make and model. 
Here are some other articles that I have picked out that I think you might be interested in reading as well!
Sources