This post contains affiliate links (I get a commission at no extra cost to you for purchases made through links in this post).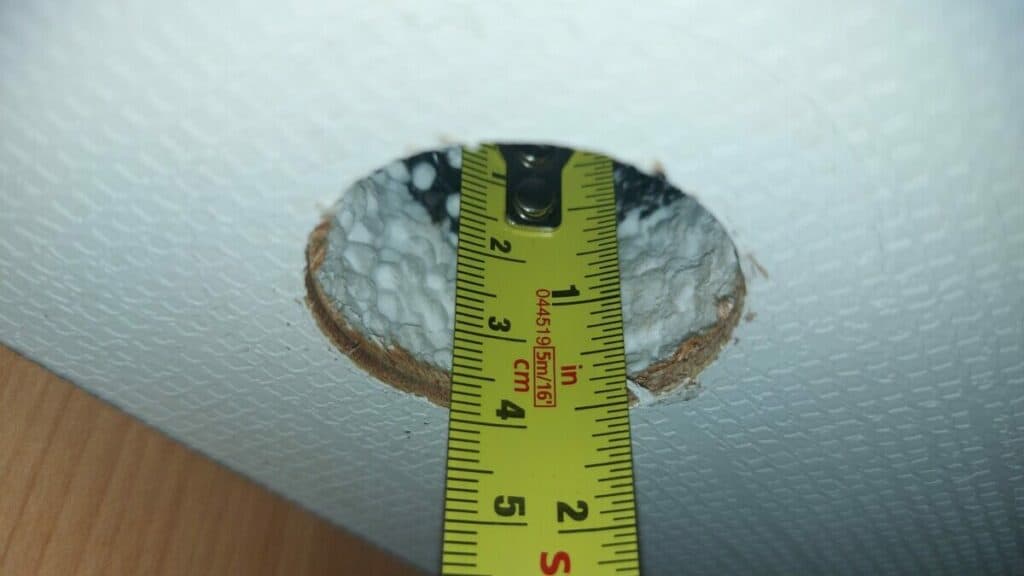 Insulated RVs are a godsend when camping in the winter, but did you know that in the summer, you can enjoy more consistent temperatures as well? That's a great way to save some cash since you can run your AC or heat less often. Which motorhomes on the market boast the best insulation?
Here's a list of RVs with excellent insulation:
Keystone Montana
Heartland Bighorn
Jayco Eagle
Heartland LM Arlington
Keystone Raptor
Forest River Arctic Wolf
Kabe Royal x780 LB
Shivering and shaking in your caravan? Not anymore when you own one of these fantastic, insulated motorhomes. Keep reading for specs and insulating features!
1. Keystone Montana
To start, we have the luxury fifth-wheel trailer, the Keystone Montana.
Even if you never camp in temperatures nearly that frigid, the insulating properties of this fifth wheel make everyday life in your caravan cozy. Maybe just as cozy as the last Christmas that we spent in our motorhome in Norway.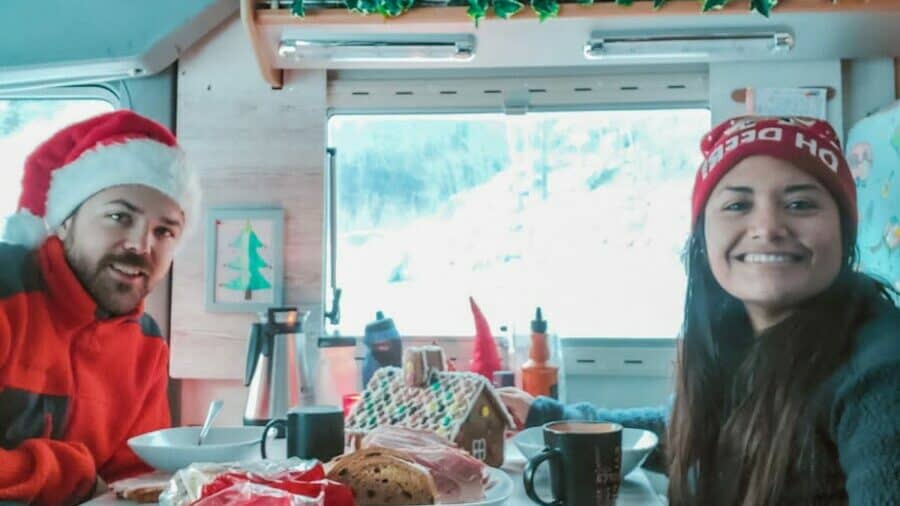 The front cap features reflective foil insulation so that as you put the pedal to the metal during hours of driving, no matter the temperature extremes outside, you'll be well shielded. 
The dump valve and underbelly are completely enclosed and feature a heating element for wintertime use. Since heat rises, it's handy that the underbelly can warm up.
I don't know about you, but it's no fun to wake up and stroll across a frigid floor in my RV, and now you won't have to! Speaking of the floors, they're also equipped with Astrofoil insulation. 
Each holding tank has 12-volt heat pads to prevent the unfortunate reality that is camping in cold weather, which is that your tanks can freeze! 
As I talked about in this post, if one part of the water system freezes, the whole thing usually does, which also means wrangling with frozen freshwater lines and a water pump. 
Here are some more specs you'll need to have handy if you're contemplating buying the Keystone Montana.
The trailer weighs up to 14,500 pounds. The length varies by floor plan, with some models 35 feet long and others 41 feet, 4 inches. The max height of these trailers is 41 feet, 10 inches, and the average sleeping capacity is four to eight people. 
The floor plans with bathrooms feature a porcelain foot-flush toilet and a vessel sink with a faucet. 
Queen-sized or king-sized beds will help you snooze better on the road while a full kitchen will curtail all those late-night fast-food trips because you don't have the means to cook in your motorhome. 
2. Heartland Bighorn
A suitable solution for part-time and full-time RVers alike, the Heartland Bighorn is an exceptionally insulated motorhome that will make your seasonal travels more pleasurable. 
Like the Keystone Montana, the Bighorn includes heated holding tanks but takes it a step further. 
Not only are the tanks heated but they're also insulated so they'll retain their temperature more efficiently all throughout the year.
The entirety of the Bighorn's sizable underbelly is heated. The enclosed design traps heat to prevent unnecessary losses in the winter. 
The Heartland Bighorn is available in many configurations. The weight varies by floor plan between 11,000 and 14,000 pounds. The bigger models are over 43 feet long and have room for five to nine people!   
Here are some other cool features. The double-welded aluminum superstructure is aircraft quality and the laminated fiberglass sidewalls are also sure to stand up to everyday living.  
The Super Store-More triple-sided accessed basement increases the Bighorn's storage capacity by 30 percent so you can travel longer or with a larger party. 
The chic kitchen features Spa Bath solid-surface sinks, True Wood pure maple hardwood cabinets, and Triple Top kitchen workspaces. 
3. Jayco Eagle
Jayco is one of the most beloved names in the world of motorhomes, and it only takes one look at the Eagle to see why.
The trailer is equipped with Jayco's Climate Shield weather protection system, which is tested to zero degrees. Within the Climate Shield system is PEX plumbing with lines that are less likely to freeze. 
The radiant barrier insulation behind the cap, across the floor, and over the roof is double-sided while the fiberglass batt insulation in the floor and ceiling is double-layered.
The ducted underbelly is completely enclosed and also heated to prevent your water system from freezing. 
The HELIX Cooling System makes life in the Jayco Eagle a comfortable and smooth experience into the warmer season when everyone wants to go camping.
Jayco increased the size of the return air vents so more cool air can come blowing out. The filters are also accessible by the average user so you can change them out and keep your cooling system running at its best.
The AC vents are closable in case you get too cold, and you can also aim the vents directionally up and down for more concentrated cooling. 
The AC has an output of 15,000 BTUs, dual ducts, and is supposed to be whisper-quiet!
The average weight of the Jayco Eagle is between 10,540 and 10,785 pounds with a standard length of 40 feet, 1 inch. The sizable trailer has room for up to six people depending on the floor plan. 
Some models include a full bathroom with linen and medicine closets as well as washer and dryer prep to better equip you for full-time living in your caravan. 
4. Heartland LM Arlington
Heartland knows how to produce an insulated motorhome, so why not consider the LM Arlington as well?
When building the LM Arlington, Heartland doubled the insulation value. The sidewalls are two inches thicker than other models and fortified. 
Not only do the walls insulate incredibly well, but they're lightweight, weighing half as much as wood thanks to the composite construction. That includes a polystyrene core, aluminum framing, and exterior fiberglass.
The strength and durability of the walls are enough that if you do camp out during the whipping winds of winter, you won't have to fret about the stability of your vehicle. 
Are there more insulating features still? Of course, there are!
In trademark Heartland fashion, the LM Arlington also features an enclosed and heated underbelly and heated, insulated gate valves and holding tanks. 
You also get a YETI insulation package as part of your purchase, which adds insulation to the front caps and an assortment of 12-volt heat strips and tape. 
The four LM Arlington models weigh between 3,000 and 3,918 pounds. The vehicle is 43 feet long on average. You can sleep between three and six people.
As if all the insulating features didn't make it an incentivizing enough choice, I also love the included Secure Stay ASA multiplex coach controls. These controls give you the freedom to set the exterior and interior cameras, dimmers, and HVAC controls.  
Camping sure has come a long way, hasn't it? 
5. Keystone Raptor
As a toy hauler fifth-wheel, I understand the Keystone Raptor might not be to everyone's tastes, but it is insulated and so I thought it deserved a spot on this list.
As part of Keystone's protective Extreme Temperature package, the Raptor is stocked with 12-volt tank heaters that will ensure you can enjoy warm water throughout the year no matter whether it's snowing or just freezing outside.
The holding tank is enclosed and heated. Keystone threw in an extra layer of insulation to the tank as well.
Among the 11 floor plans you can choose from, the Keystone Raptor clocks in at 13,492 to 16,205 pounds, which is certainly hefty. It's anywhere from 39 to 44 feet, 11 inches long, and up to 13 feet, 6 inches tall.
As you stroll through this trailer, you'll see plenty more features designed for your comfort, including an Omni-Chill high-efficiency air conditioner, an on-demand water heater, and a gas furnace that runs at 35,000 BTUs.
6. Forest River Arctic Wolf
With a name like the Arctic Wolf, you had to expect a high degree of protection from the elements, and you won't be disappointed!
This Forest River RV includes an Elemental Protection Package with a laundry list of features for comfortable use no matter what the weather outside is doing. 
The exterior walls are now two inches thicker with hardy lamination and block foam insulation to better retain temperature control from day to day. The included central air conditioner produces 15,000 BTUs of cooling power. This super-sized AC also includes a quick cool air dump. 
The PVC roof membrane has heat reflectivity to keep the inner shell of your motorhome as comfortable as can be. 
The exterior of the roof is a non-conductive wood roof that's part of Forest River's Insulator Series. The floor superstructure is made of non-conductive wood too, and all windows are Thermo-Control reflective safety glass.
The attic fan in the bathroom is bigger than ever to increase the rate of airflow, and the interior ceiling fan is a high-circulation model that will also keep the fresh air moving.
If you're somehow feeling a little chilly even with all that, the electric fireplace can produce up to 5,200 BTUs of heat and features several fan and heat settings that are togglable with remote control. 
The underbelly tank enclosure is armored to safeguard it from the elements. All holding tanks have forced air heating for staying toasty even when the mercury drops.
Across the various Forest River Arctic Fox models, the average weight is 11,525 to 14,260 pounds. The smallest model is 30 feet, 7 inches and the largest is 44 feet, 3 inches long. 
A trifold shower and queen-sized residential bed as well as double-stacked bunks in some models give you room to sleep plenty of people.
7. Kabe Royal x780 LB
You know I had to include at least one European motorhome, and that's the Kabe Royal x780 LB.
This mid-sized motorhome is jam-packed and full of heating and climate features that will make a noticeable difference in your level of comfort when spending time in your vehicle. 
The winter-adapted water system puts those annoying days of frozen pipes and water lines behind you. 
You might recall in this post that I talked about how it can take upwards of 12 hours for RV pipes to unfreeze if the temperatures are warm enough and that you often have to use heat tape or a heat gun to help the thawing along.
The risk of frozen pipes is that they can crack, so a winter-adapted water system will save you a lot of stress and money!
The floor heating system from Waterborne includes entry-step convectors and heating across various sections of the motorhome. 
An included water heater will make taking a warm shower or boiling water to make pasta exceptionally easy while a heat exchanger is another excellent feature.
The included Alde Compact 3030 central heating system is sure to lead to cozier days and nights.
Heated front seats are a nice touch when you're the one on driving duty. I also love the diesel engine heater.  Your engine is the heart and soul of your motorhome, so if it freezes or incurs other damage from the cold, that could be bad news for your future RV adventures. 
Thanks to the 230-volt three-step electrical heating element and the AGS II Pro automatic floor heating system, you won't wake up to icy mornings in your motorhome anymore! Even if you're barefoot or wearing light socks, your feet won't freeze. 
The Kabe Royal x780 LB can sleep two to six people.
Its safety features such as a gas leak indicator, fire alarm, outdoor lighting motion sensor, gas system collision sensor, and gas system hose breaker valve are the kinds of features that full-time RVers like myself really prioritize. 
Conclusion 
There you have it, 8 exceptional motorhomes that will insulate you throughout the year.
Although these vehicles include arctic packages for protection against freezing weather, don't forget that insulation comes in a lot of handy during the summer as well. 
If you've never camped in an insulated motorhome, RV, or caravan before, you'll love how much more comfortable the temperature is all throughout the year. It's these kinds of creature comforts that make an RV feel a little more like home.