This post contains affiliate links (I get a commission at no extra cost to you for purchases made through links in this post).
Unless you keep your RV water tank full, your toilet, shower, and faucets can all run dry. You know some places to refill, but you're not sure what cost you'll incur for the services. How much will you pay to top off your water tank?
Filling an RV water tank varies between $0-$15, depending on where you're traveling and refilling. You can reliably use rest stops and gas stations throughout Europe to refill your water tank for free. Campsites don't always charge either, but some do. You'll typically pay $5 to $15 for a refill.
Ahead, I'll delve deeper into whether you have to pay for a motorhome water tank refill, what the costs look like, and where you can fill up your tanks. 
Let's get started!
Is It Free to Fill an RV Water Tank?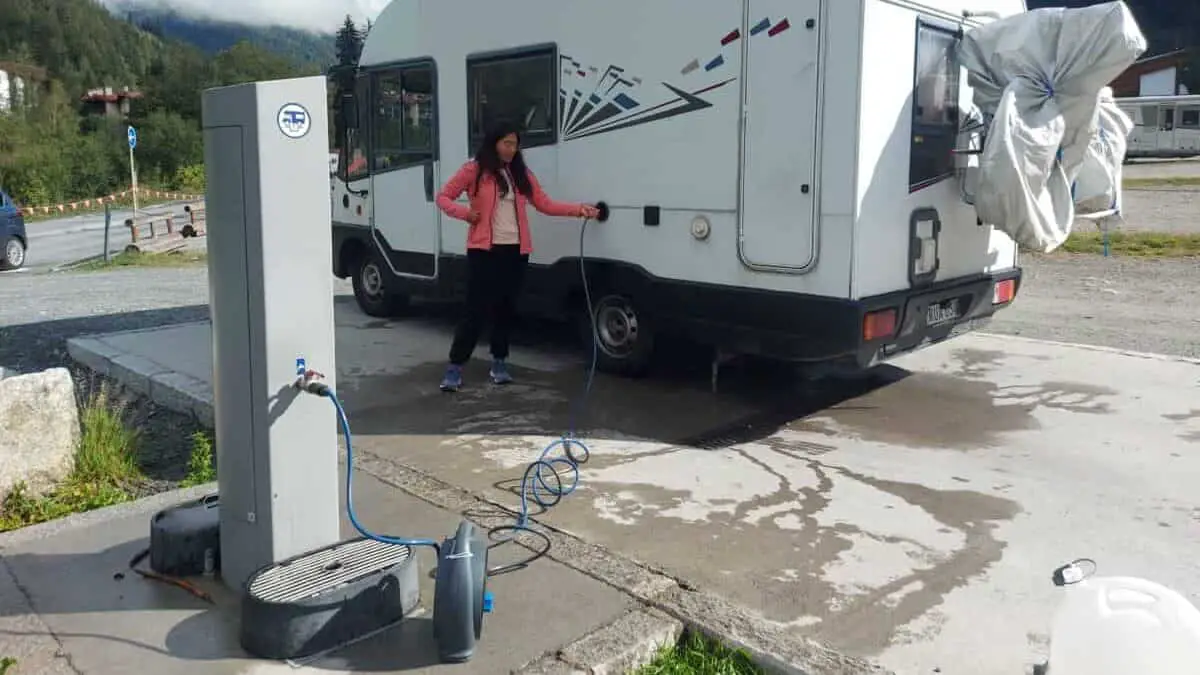 As someone who lives in a motorhome full-time, I love to look for free opportunities wherever and whenever I can find 'em. I'm sure many of you reading this are the same way!
Now, I can't speak for places all over the world, but here in my native Europe, it's very often free to refill a motorhome water tank, but not always. 
In the intro, I mentioned a few reliable places I like to use for free refills. I'll give you a nice long list of stops later that you can look into, many of which are free.
What if you don't travel primarily in Europe in your motorhome? Maybe you're from the United States or Canada and stay in your own country. Parks, truck stops, and gas stations are often more than willing to share some of their respective water supplies without charging you. 
You can fill up and be on your merry way, using the money towards anything else your RV requires such as gas, electricity, or even entry into a state park or campground. 
While it would be fantastic if every place you could think to stop and refill your water tank offered this service for free, plenty does not.
What Will You Pay to Get Your Water Tank Levels Replenished?
So how much will it set you back to replenish your water tank? Anywhere from $5 to $20.
That's not an exorbitant fee, of course, as it costs less than a tank of gas. It's money, nevertheless, though.
You can't precisely blame some places for charging you for water. After all, to refill a 30-gallon water tank, you'll spend 12 minutes if the water is flowing at a rate of 2.5 gallons per minute. 
That's something I talked about in my post on the average refill times for RV water tanks between 20 and 100 gallons.
So it's not only that you're spending a long time at the water pump, but you're sucking up quite a substantial quantity of water! 
The Top Spots for Refilling Your RV Water Tank on the Cheap (or Free!)
Are you ready for a refill? Without further ado, here are some excellent, reliable spots to top off your RV water tank for free or cheap. 
Keep your eyes peeled for these places on all your travels! 
Campgrounds
For the road-weary traveler, campgrounds are a godsend to come across. Many feature all the amenities that an RVer needs, from electrical and sewer hookups to glorious water. 
I can't promise that a campground will let you access the water supply for free, but the refill and emptying of your holding tanks are expected to be included in the campsite fee if you stay there. It's pretty common that they charge extra for electricity or showers.
And sometimes, if you stop by a campsite and want to refill the water tank or maybe empty holding tanks as well, some charge a smaller fee or let you do it free, but it is also expected that they say no, you can't you must spend the night to access those services so this will vary.
Rest Stops
I don't know about you, but after driving for hours with my destination still hours away, a rest area or rest stop is one of the most appreciated sights. Much more common in North America than in other parts of the world, rest stops are public facilities that offer refueling opportunities aplenty.
You can also take a much-needed break from the road and catch some shuteye until the morning. Rest stops are always located off major thoroughfares, highways, and expressways, so plan to stop at one as needed. 
Gas Stations
If there's a rest stop in the area, then a gas station isn't too far behind. Some gas stations are just that, while others have attached convenience stores. The more amenities in the vicinity, the likelier you can stock up on potable water for your caravan while you're at it. 
Gas stations typically offer water tank refills for free, but that can vary from station to station. For example, in Sweden, Norway, and Spain, I have never had a problem refilling water at a gas station, but in Austria, it was impossible, but there they had free water taps in almost every park I used instead.  
Forest Service Guard Stations
In the US, Forest Service Guard Stations are frequent sights when staying in national forests. You can find these administrative buildings somewhere onsite.
Guard stations are beneficial in that they offer sleeping quarters, tool storage options, workshop space, and possibly water refills as well. Many of these services should be available for free. 
RV Dump Stations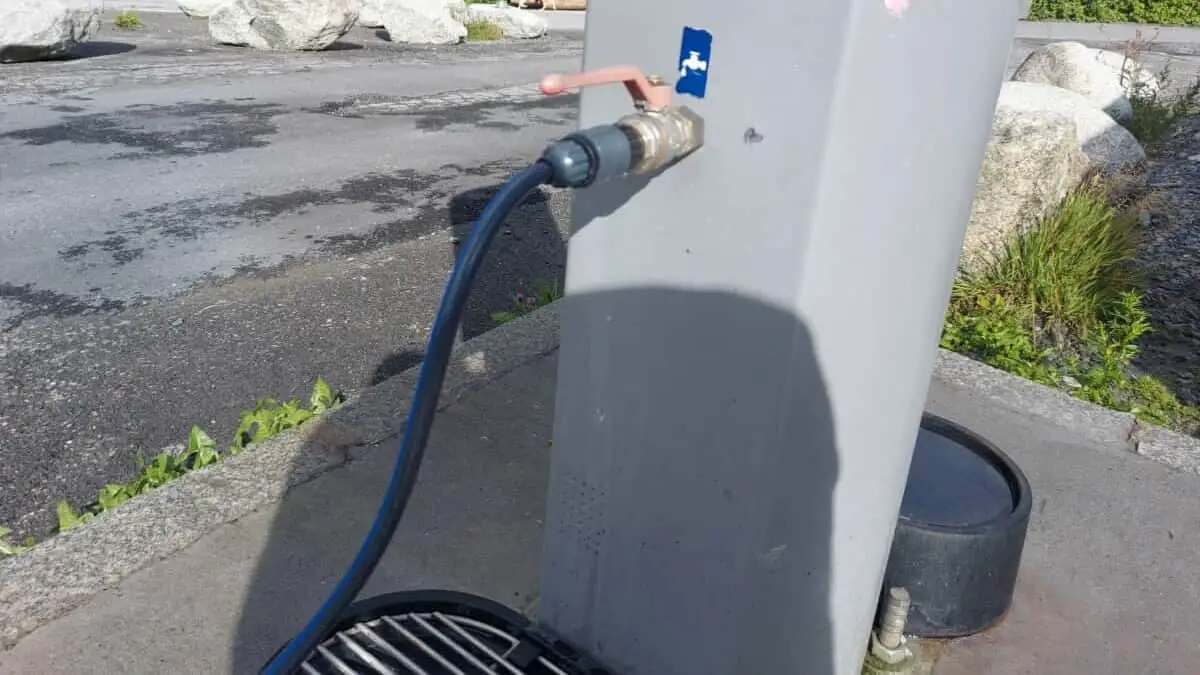 You should know RV dump stations all too well as a motorhome, RV, or caravan owner. I know that I do!
Many dump stations are more than grounds for disposing of waste. They also feature fresh water, usually for rinsing your tanks after dumping. And often a separate water tap for refilling fresh water.
If the dump station isn't free, the water won't be either. Dump station fees aren't typically exorbitant, though, and you might get a better deal refilling here than you would elsewhere. 
At many automatic RV dump stations around Europe, I have found that if they aren't free, it costs around 1-2 Euros to be able to dump the blackwater and 1-2 Euros to refill water, but this differs. Free and paid places are easily found with the app Park4night for us Europeans!
I would only recommend using a dump station as a refill spot for your RV water tanks if there isn't a line. Or if you can dump first and then get out of the way and refill using a longer water hose while you aren't blocking the dump site.
Remember, it takes at least 12 minutes to refill a water tank, and even that depends on factors such as the size of your tank in gallons and how fast the water flow rate is.
State Parks
Another viable option for refilling your motorhome's water tank is to check out a state park. Most RVers have state parks on their itineraries, so it's not like you're going out of your way to being here.
Like a campground, a state park is typically rife with amenities such as electricity and water. You may or may not have to pay extra to use these amenities. I can't say for sure, so check the park's website or call them if you have questions.
RV Parks
When all else fails, you can always stop at an RV park. These small communities of motorhome enthusiasts provide members with all sorts of valuable amenities, and water should always be on that list.
Public or City Parks
Don't keep driving by when you see a park on your route. Public parks often have water fountains that you can use to level off your water tank. I'm not going to pretend that it'll take you two minutes to fill your tanks, as it won't. 
Most parks are open from sunup to sundown. Try to get to the park early or wait until it's getting near dark to refill. This way, you don't hog up the water fountain. 
Cabela's 
The last option is a long-shot but worth mentioning. Those in the US and Canada can try outdoor gear stores Cabela's, as some offer potable water. 
This is one of those instances where I would call ahead and ask, as every Cabela's is different. Don't waste the gas driving out there for nothing! 
And speaking of wasting gas on driving around, I have too many times drove around searching for a free disposal site or water source when in the end it would have actually been much cheaper for me just paying for using those services at a campsite or even staying the night so keep that in mind!