This post contains affiliate links (I get a commission at no extra cost to you for purchases made through links in this post).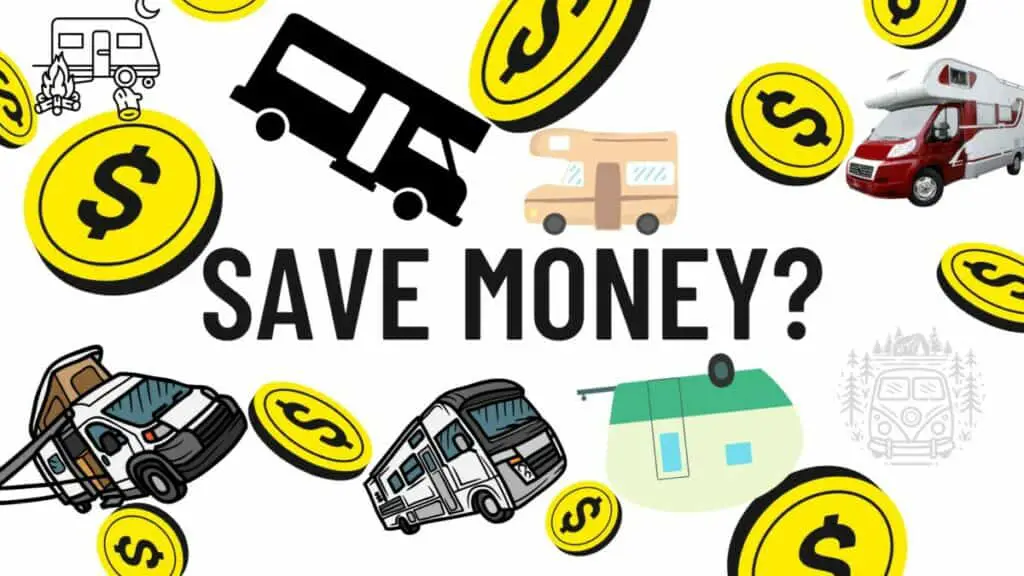 As the cost of living rises, you may consider a life on the road. Motorhome dwellers swear that an RV lifestyle is cheaper than living in a traditional home. However, there are some things to consider before you pack your bags and replace your house with wheels.
Living in an RV can save money. Depending on the setup, RV living can cost anywhere from $1,000 to $10,000 per month. You can save money by choosing a campsite with affordable fees, doing your own maintenance, and maintaining a frugal lifestyle.
This guide will show you how living in an RV could relieve your financial stresses and help you save money. 
Is It Cheaper To Live in a House or an RV?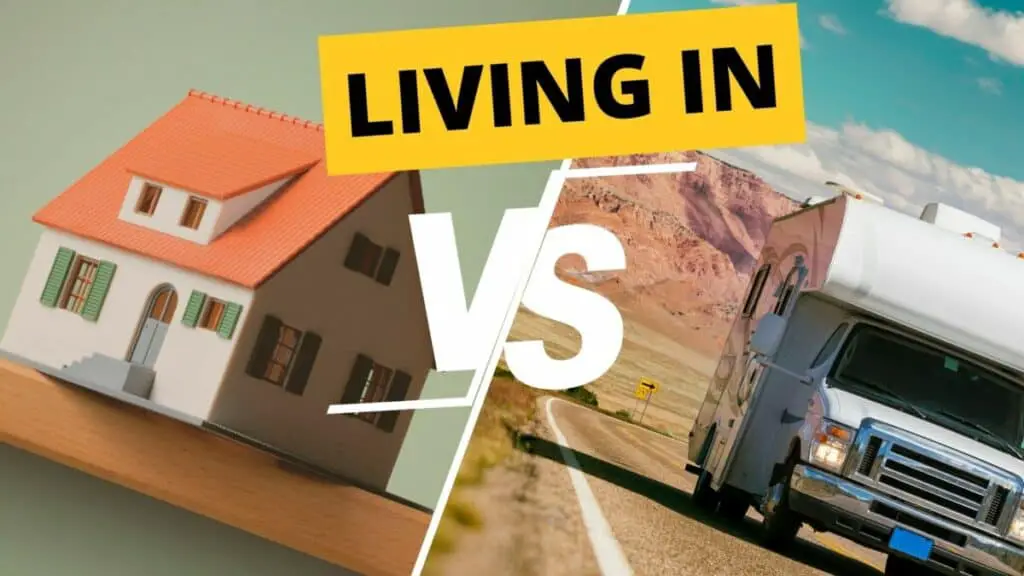 Living in an RV is generally cheaper than owning or renting a traditional home. If you have debts to pay or want to save money for the future, RV living can help you achieve these goals on a shoestring budget.
Your overall monthly expenses will depend on the type of RV and where you park. For example, stationary motorhomes that do not use gas will cost less to operate and maintain.
Some of the costs you'll need to consider are:
Wi-Fi
Laundry
Fuel
Repair and maintenance costs
Water
Gas or propane
Electricity
Campsite fees 
Toll fees and clean-air charges may add to your monthly bill if you plan on traveling in your RV. Many RV owners document their lifestyle on a blog or social media to fund their lifestyle and pay for small things like coffee or toll payments. 
Most RV owners can keep their monthly expenses to $1,000. Boondocking (dry camping or wild camping), using solar panels, and doing your own maintenance can all keep costs low while you travel. Reducing your grocery bill and limiting luxuries can also lower your cost of living.
The Right RV Will Save You Money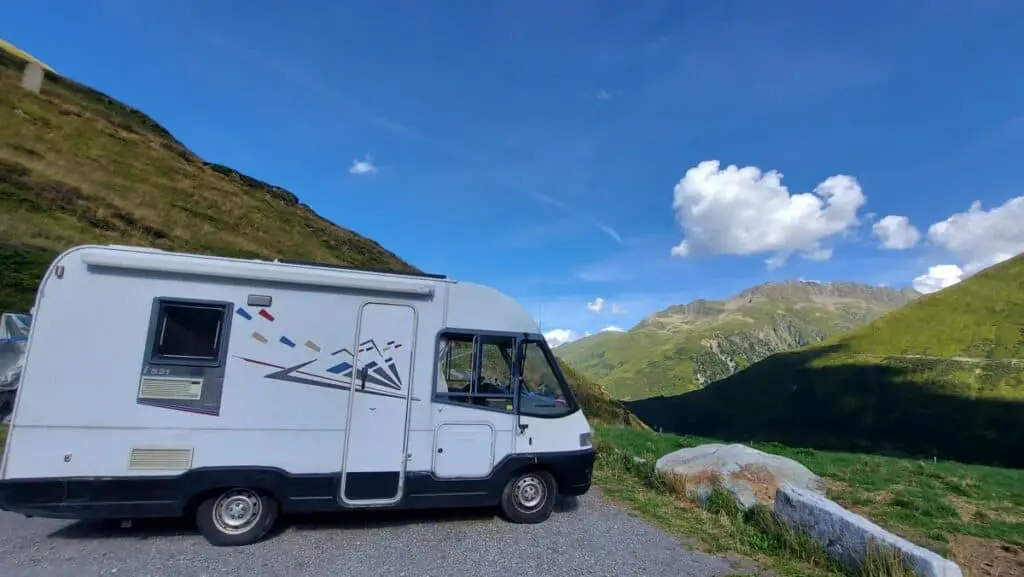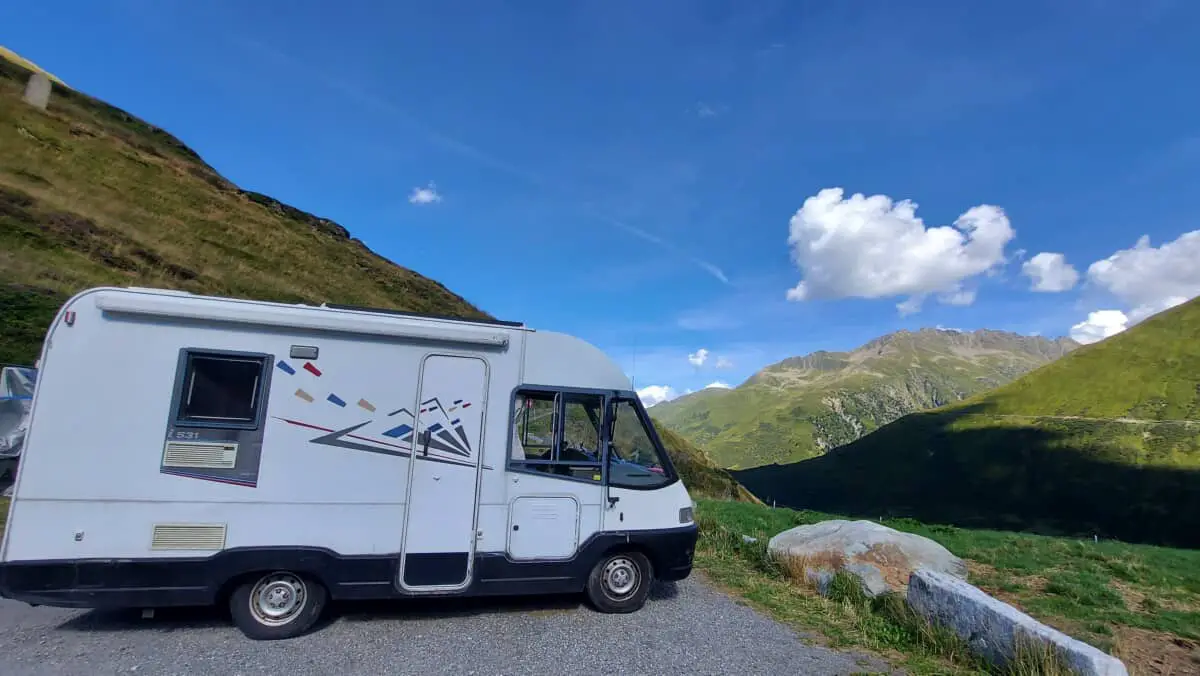 It would help to analyze your startup costs before living in an RV. Choosing the wrong vehicle and parking it in an expensive location could spell financial ruin before your adventures have begun. The first hurdle you will need to overcome is buying your first RV.
If you own an RV, you can start calculating your monthly costs and compare them with your current situation. Comparing the cost of heating an RV vs. a traditional home in winter is a great place to start; lucky for you, I have already made another article about it that you could check out. Otherwise, you'll need to start writing a list of specifications for your first RV. 
Stationary RV vs. Mobile Home
The type of RV you buy can directly impact your living costs and potential savings. Choosing the right RV for your family's size and needs is crucial. Some critical factors to consider when selecting an RV include the following: 
Your location and weather
Family size
Storage space 
Budget
A stationary vehicle is better suited for people who want to stay in one location. You won't travel and spend money on attractions, fuel, or restaurants. Although your RV is parked in one spot, you can still move it to a different location if you grow tired of the area. 
A stationary RV park offers many perks that make staying in one spot more worthwhile. Most parks offer a mail handling service, Wi-Fi, water, and electricity which takes a lot of stress out of RV living. So, research RV parks before you select your location to get the most out of your parking spot.
The RV lifestyle offers freedom and flexibility that traditional homes simply can't provide. If you can work while you travel, then a mobile motorhome may suit you better. Stationary RV living can offer more employment opportunities for travelers who cannot work on the road.
RV lifers come from all walks of life, and many work on the road. Earning a living while you travel will provide the freedom and security you need if you want to move location regularly. 
Motorhome Leasing vs. Buying
Financing an RV could cost as much as your mortgage or rent payments, so it is essential to consider your options. Owning your RV outright will remove monthly accommodation costs and help you save thousands. On the other hand, leasing an RV might give you more choices to buy a luxurious RV that you can buy at the end of your contract. 
Do the research and rent an RV before you buy or lease to see if you enjoy the lifestyle. Most RV rentals will have mileage restrictions, so check the limits before planning a cross-country trip. 
Buying a motorhome outright is your best bet for saving money. You won't have any monthly repayments or restrictions on how you use the vehicle. Buying a used RV will get you better value for your money. The best time to buy an RV is during the winter when there is less interest in RV living. 
How To Minimize Your RV Living Expenses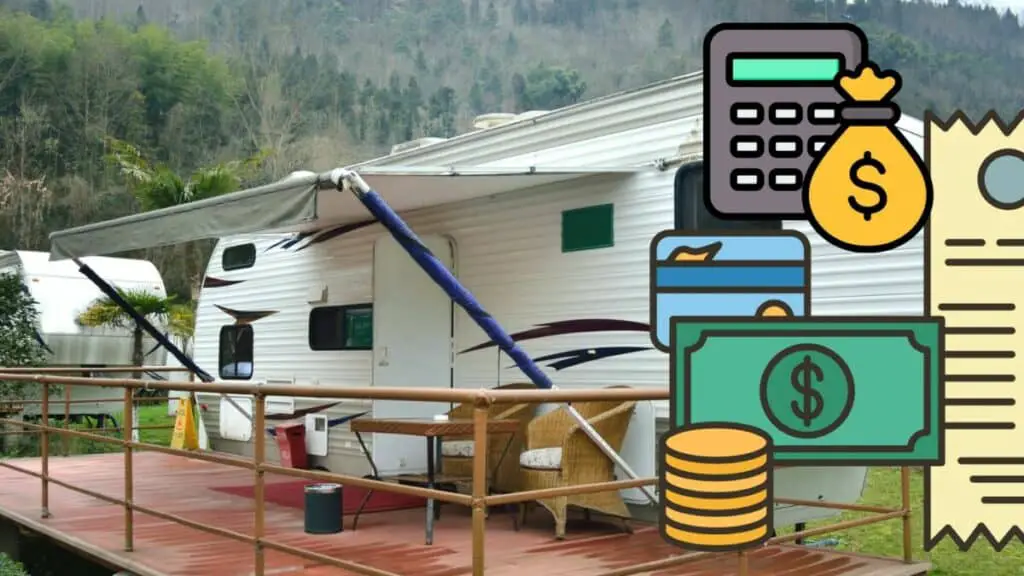 One of the biggest benefits of living in an RV is the significant reduction in daily expenses. You own less stuff, and you have less space to heat. An RV lifestyle can certainly be affordable, but some aspects can be expensive if they are not managed correctly. 
Nevertheless, living a comfortable lifestyle in your RV on $2,000-$3,000 per month and saving money is possible. Many RV owners operate their rig on less. Cooking your meals and choosing cheaper fuel spots can help you keep your expenses to a minimum and set more money aside for your savings. 
Consider Stationary Locations
Traveling to multiple locations each week may seem attractive when you start living in your motorhome. However, the fuel bills and campsite fees can quickly add up. Finding a nice spot and staying longer can help you save money and relax simultaneously.
If you're looking to save even more money while still having access to excellent amenities, consider stationary RV locations. They can be cheaper while offering excellent amenities, and I have already written another article about the costs of living in a stationary RV that you should check out.
Some stationary campsites offer work opportunities and discounts for their employees who stay on-site. Finding work at your site could save you thousands on your monthly expenses.
You can use campsite apps to help you find your next RV location. Make sure you read the reviews and call the campsite before you arrive to avoid any nasty surprises. You can park in some public areas for free if your RV is self-sufficient with solar panels and a water supply. 
Check with your local authority before you plan on 'boondocking' (free camping).
Do Your Own Maintenance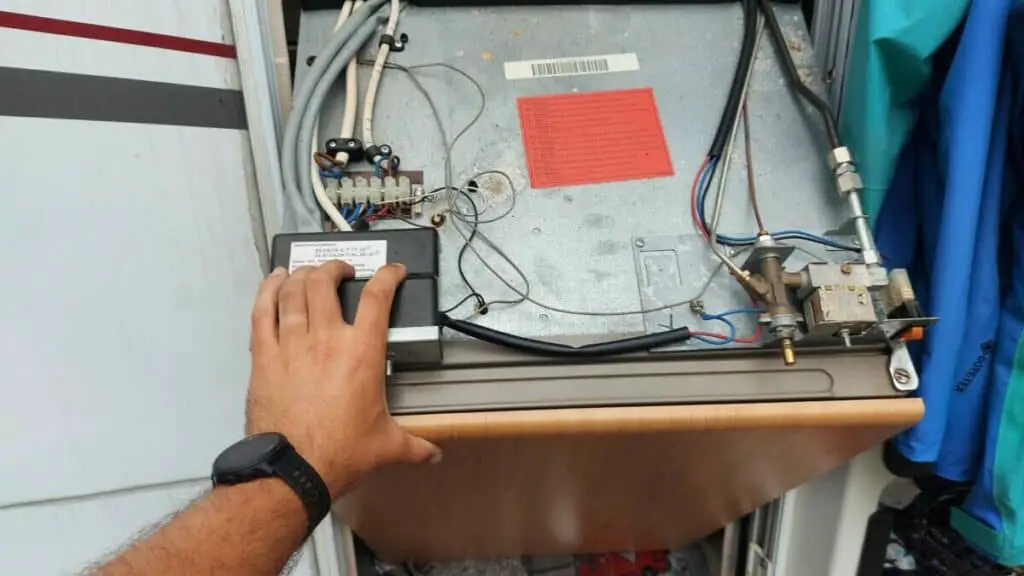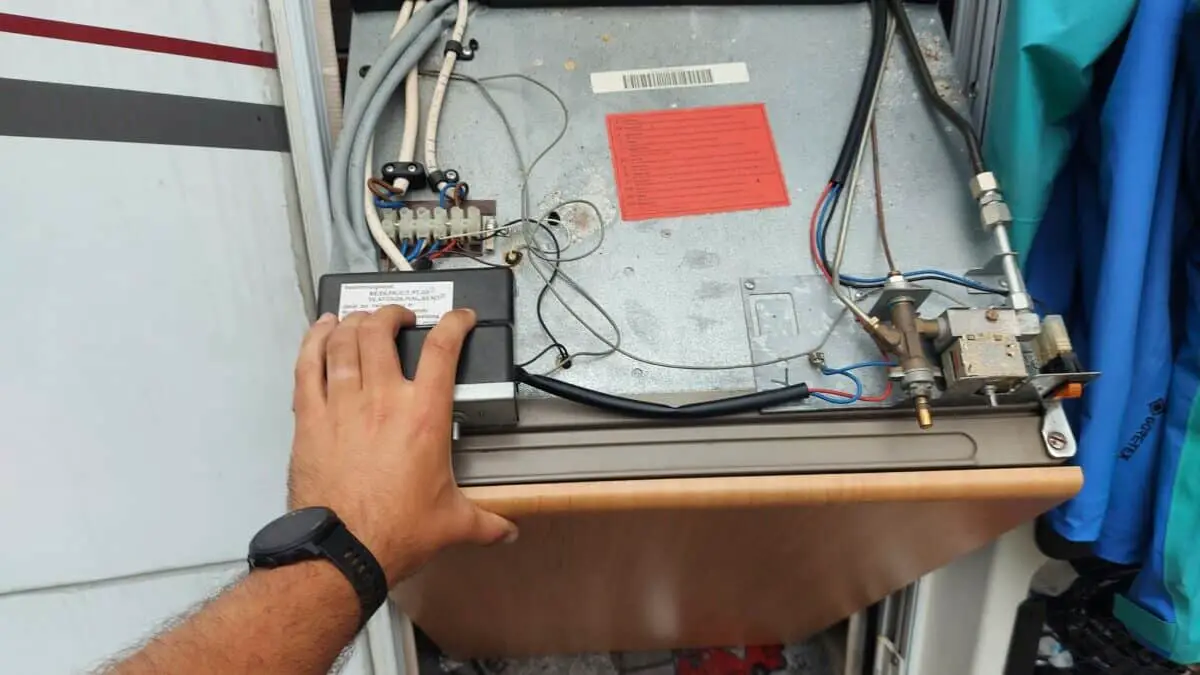 One of the best ways to save money while living in an RV is by conducting regular maintenance. Home maintenance costs 1%-4% of your home's value per year. Expenses could be higher if you renovate your property or make overdue repairs. 
Fortunately, maintaining your RV will cost less than the upkeep of an entire home. Keeping an eye on your vehicle and taking preventative measures will also help you avoid expensive repairs in the future. 
Keep in mind that some appliances in your RV cost quite some money to replace, and some repairs can get really expensive; for example, if you get water damage, that can cost thousands of dollars to repair a bad one, even upwards of $10,000 USD!
Focus on Energy Efficiency
Heating and running power to an RV is much cheaper than a home. An RV uses 300kWh less than a home each month. Your motorhome will have fewer appliances than a home and be much cheaper to operate. Depending on your family and home size, switching to RV living could save you thousands on energy bills. 
Insulating your RV and traveling to warmer climates can also keep your energy costs low. 
More on how much electricity an RV uses VS a house in this other article if you want more comparison and in-depth knowledge.
Tips for Saving Money in an RV
Many motorhome owners get excited in their first few months of RV living but then find that their monthly expenses are more than they would like. 
Living in an RV can be low-cost if you know how to reduce your outgoings. You can follow a few simple tricks to make it easier to stick to your monthly budget in an RV.
Look for Affordable Camping Spots
There's nothing wrong with parking up at a luxurious camping resort with all the bells and whistles. Don't make this a regular occurrence if you want to save money. An off-grid RV setup or low-cost campsite is an excellent way to prevent your finances from spiraling out of control. 
You can speak to other motorhome owners and ask them about their favorite spots. 
Cook and Eat Inside the RV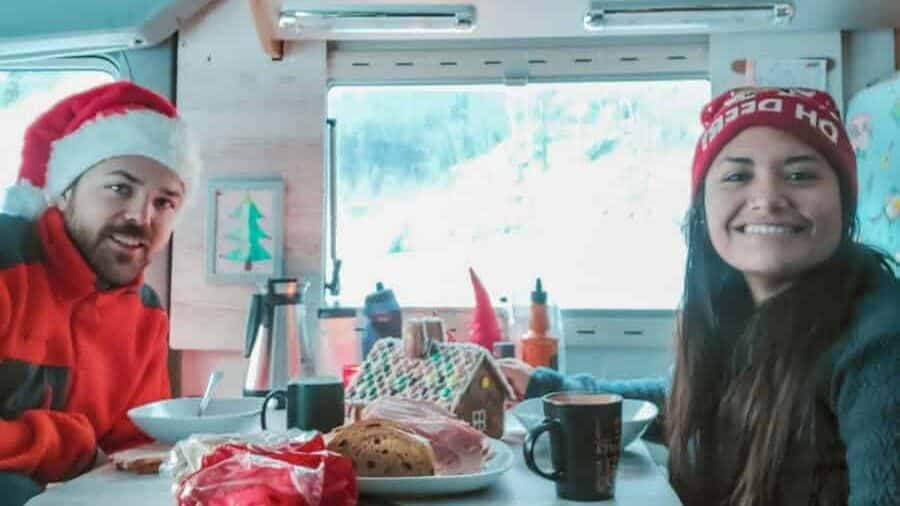 Designing your RV with dining in mind will help you save money each month, just like eating healthier meals at home will also reduce medical bills and other healthcare expenses. 
Installing a grill and other cooking appliances in your RV will make eating at home entertaining and more affordable than dining out. You can also cut costs by making snacks and hot drinks in your RV for long journeys instead of visiting diners or fuel stations. 
Although it can often be more tempting to eat out when you are traveling with an RV compared to when you live in a house since you see and visit new places all the time, it sort of feels like a vacation but remember, it's your new life.
Your RV is your new house on wheels, so get used to eating in your new home instead of at restaurants.
Take Advantage of Free Activities
Spending money on activities and experiences when living in your RV can be tempting. It's important to remember that your RV is your home and not a vacation experience. Setting aside a budget for monthly activities is an excellent place to start if you enjoy going out. 
Check out the local visitor center to find free activities and experiences near your RV. Various towns and cities will offer free walking tours of the area that showcase what's available. Visitor center staff will be more than happy to explain the local attractions and free activities. 
Travel During Off-Peak Times
Driving your motorhome through heavy traffic is bound to decrease your fuel efficiency. Try to avoid traveling on roads during popular holidays or during rush hour to save money on fuel. Campsites and popular tourist areas may also charge higher fees during peak times of the year. 
The best times to travel are during the week and a few weeks before popular holidays. 
Improve Fuel Economy
Checking your tire pressure, oil level, and weight can improve fuel efficiency. Try to remove unnecessary items from your RV before you travel to get more miles from your fuel. Keeping an eye on your fuel efficiency is also an excellent way to monitor your engine. 
High-speed driving is another way to burn fuel (and money). Reduce your speed and make gentle stops to save money and get more from your fuel tank. 
Do It Yourself
Learning how to maintain your RV will save thousands in repair costs. Taking preventative measures during the winter and monitoring motorhome interior is an easy way to save money and prevent future financial loss.
There are lots of simple ways to maintain your RV without paying a professional, including:
Keeping the battery charged
Applying lubricant to slide outs
Checking seals around windows and doors
Tightening wheel lug nuts
You should inspect your RV roof every three to six months to check for leaks and damage. Moisture can leak into your RV through the ceiling, vents, or skylight and cause extensive water damage. Check to see which sealant is compatible with your RV before performing any repair work to your roof and seals. 
Normally Dicor self-leveling lap sealant is the best option for the roof, so I recommend you check that out; here is a link to amazon for it.
Pros and Cons of RV Living
There are so many reasons why RV living is fantastic for your wallet, health, and well-being. However, it is essential to acknowledge some downsides to living this way. RV living is not for everyone. To some, it can be less convenient and comfortable than living in a traditional house.
Here are the advantages of living in an RV:
Ability to move location 
Cheaper monthly outgoings (no rent or mortgage)
Living closer to nature
Lower insurance
No property taxes
There are only a few disadvantages to living in an RV, but you should be aware of them before you make a decision. The lifestyle costs less and provides more financial stability, but living in a smaller space can be challenging. 
Some disadvantages of living in an RV include the following:
Poor internet connectivity 
Travel fatigue
Mold and mildew
Small living space
The feeling of always being on the move
Driving a large vehicle can also be stressful for new RV owners. Renting an RV, you feel comfortable driving will allow you time to adjust to the lifestyle before buying.
Key Takeaway
Living in an RV can be as expensive or cheap as you make it. Parking your RV in a luxurious plot or driving with full water tanks can increase your cost of living and eat into your savings. So, if you want to save money by living in your RV, take note of the following:
Choose the right RV type
Perform regular maintenance
Travel light
Find cheap campsites
Staying in one place and finding affordable camping spots can reduce your monthly bills and help you save money.
Sources