This post contains affiliate links (I get a commission at no extra cost to you for purchases made through links in this post).
Are you thinking about your first motorhome, RV, or caravan winter trip but are wondering how much it costs to heat your motorhome during the winter? Look no further; we will dive into how much propane, electricity, or diesel you use and the prices for heating an RV in the winter.
Last winter, I spent 300 USD worth of propane per month to heat and live in my motorhome in Norway with an average temperature of -10C or 14 F; I used an 11 KG (24 lbs) refillable propane bottle that I needed to change every three days at a price of about 30 USD.
Here is an estimated table showing the costs of heating a motorhome, RV, or caravan in the winter, depending on the outside temperature and if you use propane, electricity, or diesel.
Note that actual results will vary depending on your prices, what heater you use, how big a motorhome you have, and how well insulated it is, but this is a good guideline for most RVs.
Outside temperature
Propane
9 KG (20 pounds)
bottle @ 30 USD
Electricity
@ 0,2 USD / KWh
Diesel
@ 2 USD / L or
9,1 USD / gal
-30 C (-22F)
~36 USD / day
Not Sufficient
~30 USD / day
-20 C (-4F)
~18 USD / day
If sufficient:
~8 USD / day
~15 USD / day
-10 C (14F)
~9 USD / day
~6 USD / day
~7 USD / day
0 C (32F)
~5 USD / day
~3 USD / day
~4 USD / day
5 C (41F)
~2,5 USD / day
~ 1,5 USD / day
~2 USD / day
Rough estimates based on my experience using a truma combi heater.
To follow up on that, let's start looking at how much propane, electricity, or diesel your heater theoretically uses to keep your motorhome, RV, or caravan warm during the winter when it is running on maximum capacity.
How Much Propane, Electricity, or Diesel Does It Take To Heat An RV In The Winter?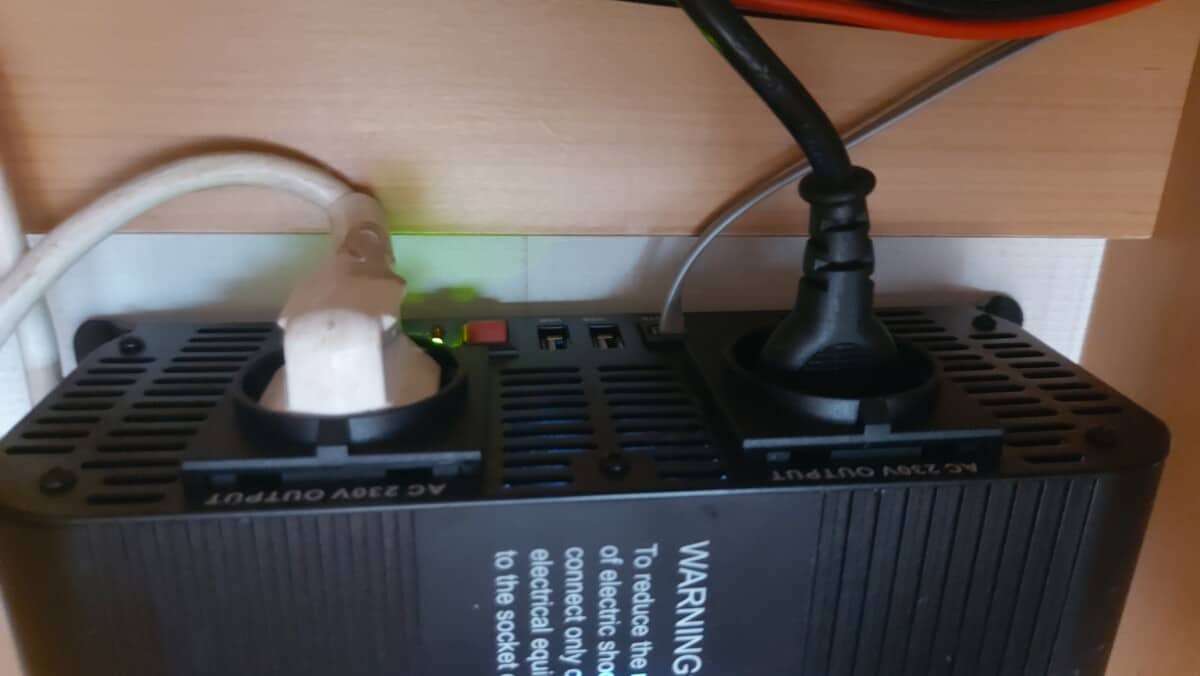 This table shows the theoretical fuel and energy consumption of Truma Combi heaters constantly running on their three common effect settings.
Truma Combi
Heaters:
Propane
Electricity
Diesel
Low (2000W)
0,16kg (0,35lbs) /h
3,82kg (8,4lbs) /day
900W
21,6KWh /day
0,22L (0,06Gal) /h
5,28L (1,4Gal) /day
Medium (4000W)
0.33kg (0,73lbs) /h
8,04kg (17,7) /day
1800W
43,2KWh /day
0,4L (0,1Gal) /h
9,6L (2,5Gal) /day
High (6000W)
0.46kg (1lbs) /h
11,04kg (24,3) /day
–
0,63L (0,17Gal) /h
15,1L (4Gal) /day
Daily Price at:
9 KG (20 pounds)
bottle @ 30 USD
@ 0,2 USD / KWh
@ 2 USD / L or
9,1 USD / gal
Low (2000W)
12,6 USD / day
4,32 USD / day
10,56 USD / day
Medium (4000W)
26,55 USD / day
8,64 USD / day
19,2 USD / day
High (6000W)
36,45 USD / day
–
30,2 USD / day
A rough guide if you are way off in your area or country when it comes to the prices, make sure to adjust for that; for example, Americans can almost take the calculated diesel price in half, but that's the average price worldwide that I used.
Through experience from living full-time in the winter, I can tell you that these numbers depend on a lot of things; use your heater's maximum output and roughly use the numbers from the table as is when the outside temperature is below -30 C (-22F), Divide the numbers by two at temperatures below -20 C (-4 F), Divide by three at temperatures below -10 C (14 F), divide by six at temperatures around freezing.
The table above shows the theoretical maximum consumption and prices based on an average worldwide, so make sure to adjust the prices there according to your country.
Those numbers are calculated on the heater running constantly; in reality, the heater is not working consistently. The heater senses when the temperature drops below your temperature settings and runs until it gets warmer than your chosen setting. Then, the heater turns off to save you money and fuel and keep the perfect temperature.
Depending on the size of your motorhome, RV, or caravan, your heater will use more or less energy and cost more or less to heat. One of the most significant factors on how much your furnace or heater will need to work is how well insulated your motorhome is. Below, I will cover this more with further guidelines.
In my youtube video above, you can also learn how I did to never need to change propane bottles in the middle of the night ever again.
How Long Will a 9KG or 20lb Motorhome (RV) Propane Tank Last In The Winter?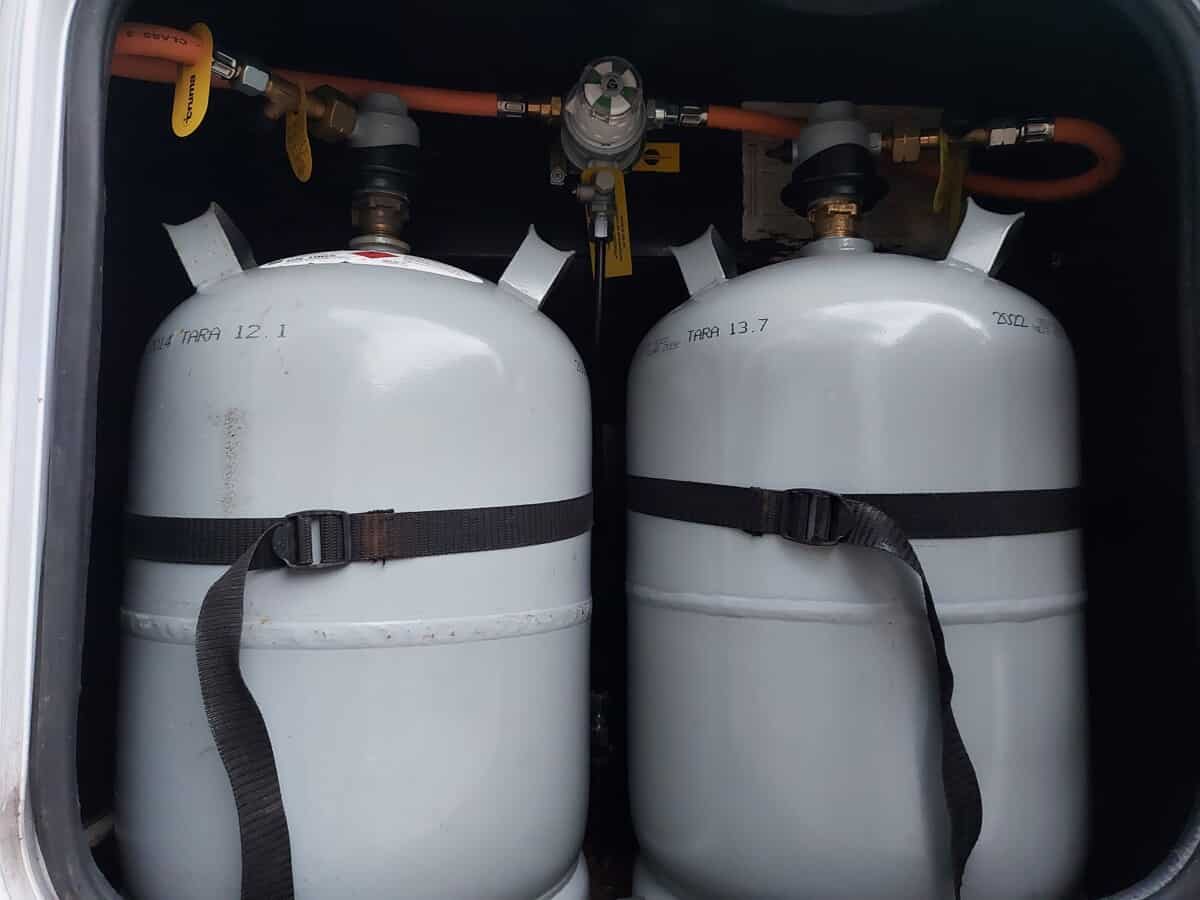 Depending on the outside temperature, how big and how well insulated your RV is, a 9KG or 20lbs propane tank will last ~1 day at temperatures below -30 C (-22F), ~2 days at temperatures below -20C (-4F), ~3 days with temperatures below -10C (14F), ~6 days at 0 C (32F), when it is used for heating.
What Affects How Much It Costs To Heat a Motorhome (RV) in Winter?
How big your RV is, how well insulated it is, how cold it is outside, and what heater you use will affect the cost of heating a motorhome, RV, or caravan the most in the winter.
As I have said, the numbers in the tables above depend on many different factors, but I would say that they are applicable in most cases. For example, I have an older motorhome from 1996 that was initially poorly insulated and not made for winter camping, so I put some extra insulation on the floor; I almost doubled it and used a DIY insulation cover for the front window most of the time.
My motorhome is relatively small, just 5,5 meters or 16,4 feet, so I dont have a massive area to heat up, but at the same time, everything but the floor is poorly insulated, so even if you have a motorhome 50% bigger, but a few years newer, you will likely have better insulation that makes up for it or less draft from random "ventilation holes." And we would have similar heating costs anyway.
You get the idea, it all depends, and there is no accurate number that will work for everyone; the tables above and my experience are the most accurate guidelines I can give, and you might need to tweak them a bit to make them valid for your motorhome, RV, or caravan.
For example, if you have an even older motorhome than I do (1996), longer than mine, and you haven't done anything to insulate it more, and it is not made for winter camping, it will probably cost you a bit more than the examples above, maybe add 20% in heating costs.
If you fall into that category, you might not have an insulated grey tank, same as me, and this one will quickly freeze, creating many problems for you. To avoid that, you can check out my other article, which explains how I kept my grey tank from freezing during a Norwegian winter.
On the other hand, if you have a motorhome, RV, or caravan specially made for winter camping with excellent insulation and double flooring, it's going to be slightly less than my numbers above, maybe 20-30% less. So as annoying as it might be, it always depends.
Whatever type of motorhome, RV, or caravan you have, most people wonder if the water pipes will freeze when it is time for winter camping. A rough answer is that in a motorhome like mine, water pipes could start freezing already at a temperature below -13 C (8,6 F). For well-equipped and insulated newer motorhomes, they won't freeze even at -30 C (-22F) but learn more about if RV water pipes can freeze overnight here.
What Happens When a Motorhome (RV) furnace Runs Out Of Propane?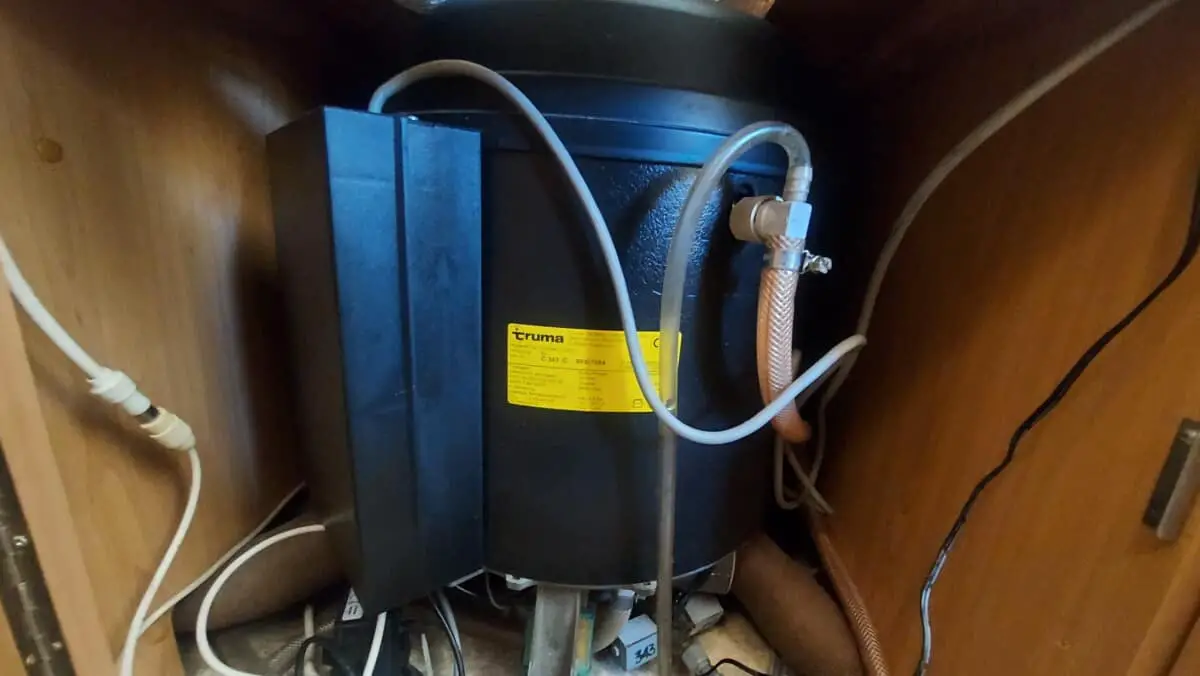 When a motorhome, RV, or caravan furnace/heater runs out of propane, it will stop working and give an error signal by its control panel; for me, it is a red light that shines, and I know it is time to replace and refill my propane tank.
The error message or red light can also turn on for other reasons, but if you have an excellent working furnace/heater, it shouldn't. Still, just in case, I always lift my propane tank a little bit and feel if it is very light to make sure that it was the reason why it stopped working; most of the time, it is, and then I use my second propane bottle and refill the empty bottle.
To start the furnace after running out of propane completely and refilling the propane tank can take a couple of tries since the propane lines are empty.
Hence, you need to be a bit patient if it doesn't start on the first try ad give it a couple of goes; consult your instruction manual if it takes 3-4 tries since, at that time, it should have started.
When your heater doesn't have any more propane to heat your RV, you could get at risk of a frozen and broken water heater, but as long as the temperatures around the heater are warm, you will be okay. Check this link to another article to learn more about when exactly a water heater will freeze in a motorhome, RV, or caravan.
And in my youtube video below, you can learn some vital RV propane safety tips, such as if you can drive with the propane turned on or not and the importance of always turning off your propane appliances before driving to a gas station.