This post contains affiliate links (I get a commission at no extra cost to you for purchases made through links in this post).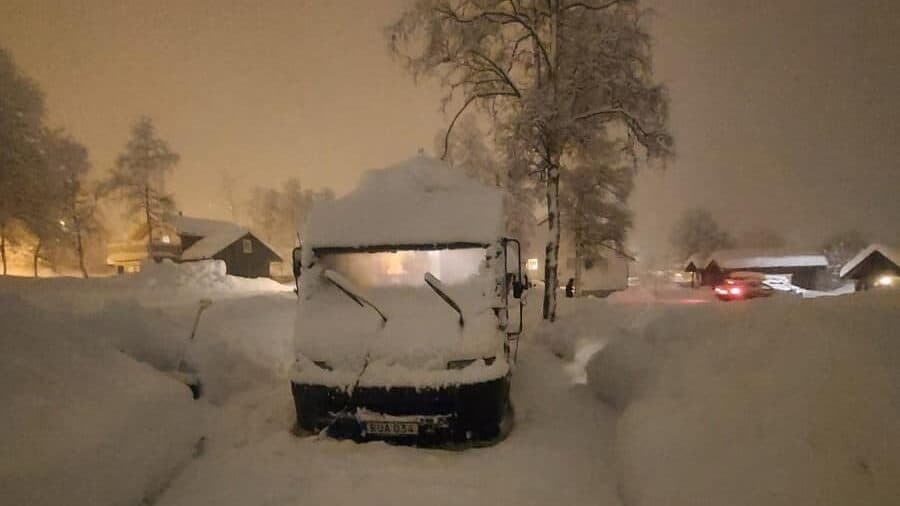 Are you ready to go winter camping but notice you will get some cold weather and wonder when and if the water pipes can freeze in your motorhome even if you run the heater during the night?
If it gets cold, RV water pipes can freeze in one night while camping and running the heater. For example, in my uninsulated motorhome, the water pipe to the kitchen and shower froze at -13 C (8,6 F). However, the bathroom sink never froze even at -20 C (4 F); this water pipe was better insulated.
During the day, we never had a problem with freezing pipes since we always had the heat turned up a little higher in the day. This was a warmer winter in Norway, with typical temperatures between 0 C (32 F) and -20 C (4 F). We ran the propane truma heater at 17 C (62F) at night and 20-25 C (68-77 F) during the day since we sleep better with a bit lower temperature and also to save propane.
This question has a lot of nuances and will vary depending on what type of heater you are running, how well insulated your motorhome is, and, more importantly, how well insulated your water pipes are.
Newer and specialized winter motorhomes, caravans, or RVs like the famous brand Kabe run tests on their motorhomes down to -35 C (-31 F) so those water pipes won't freeze until it really gets freezing.
Even with an "uninsulated" motorhome from 1996, we managed to live the whole winter in it without too much hassle. Anyway, let's dive into some of the things that make a big difference in whether your water pipes will freeze overnight or not.
The Best Way To Heat Your Motorhome In The Winter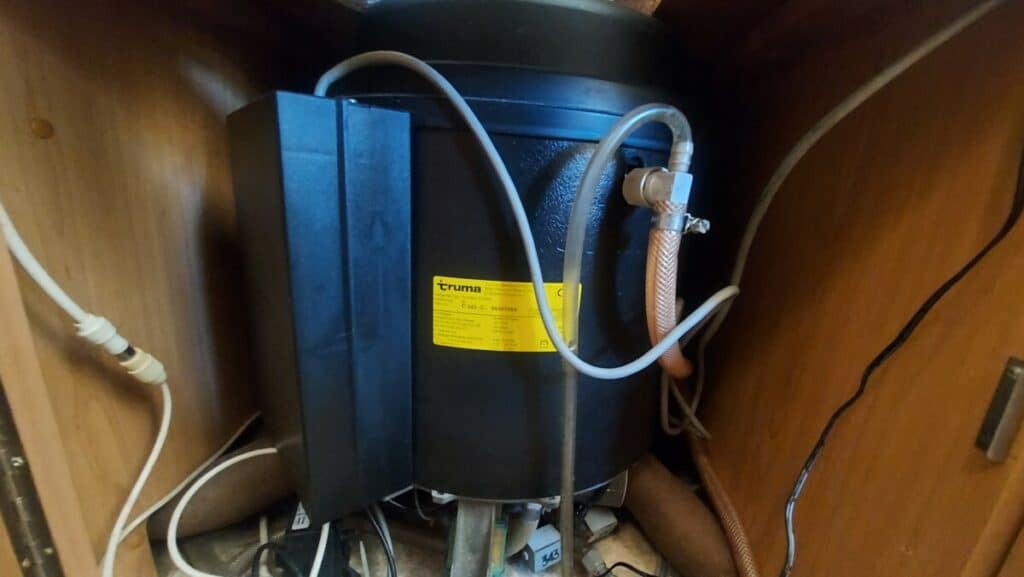 The best way to heat your Motorhome, RV, or caravan during the winter is to use the original heater. Run it on electricity or propane. The original heater is connected to a fan that helps spread out the heat evenly via pipes in your RV, which keeps water pipes from freezing.
Suppose you compare running a stand-alone electric heater that you place somewhere in the RV to save money on propane. In that case, you will struggle with uneven inside temperatures, especially frozen water pipes. Because the original heater has heat pipes and a fan to help spread the heat, which usually goes right next to all the water pipes to keep those from freezing in the winter.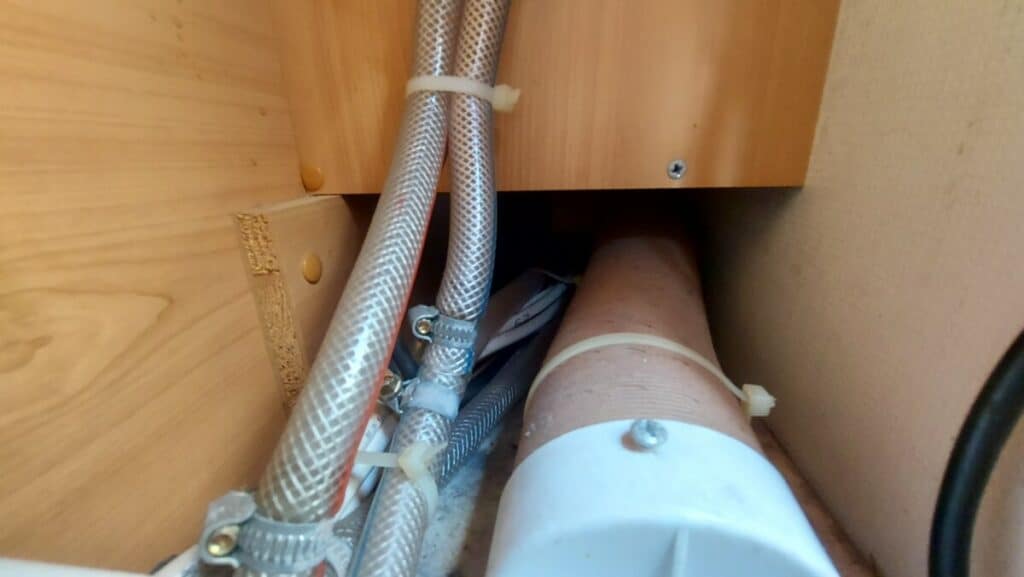 If you have an electrical hookup and want to run the heater on electricity which usually is cheaper than propane, consider upgrading/converting your heater so that you can run it on electricity as well as propane if you dont have that already.
Or always run the original heater and have a "support" electrical heater that you can place in the coldest area and run from time to time or always when there is no risk of frozen pipes.
One huge reason to run the original heater is to keep water pipes and tanks from freezing. It also gives a much more even temperature in the motorhome and keeps the cabinets warmer and not so humid.
What Effects a Motorhomes insulation Has On Freezing Water Pipes
Whether your RV water pipes will freeze in one night while camping and running the original heater depends significantly on the insulation you have and especially what insulation you have around your water pipes.
As I mentioned before, the water pipe to my shower and kitchen froze during the night at -13 C (8,6 F), but the water pipe to my bathroom sink never froze even at -20 C (4 F). Again, this was during the night without running any water from the taps or dripping faucets to have water flow to help keep it from freezing and running the original heater at only 17 C (62 F).
The reason why the water pipes to my bathroom sink never froze was that they were much better insulated, so if you have a well-insulated motorhome, RV, or caravan, im sure you won't have a problem with freezing water pipes at least down to -20 C (4 F) if you run the original heater.
My kitchen and shower water pipes froze because they were placed right below the fridge ventilation holes. Yes, I can't believe it either; I mean, who is stupid enough to put water pipes completely non-insulated right beneath the massive ventilation holes for the fridge. They were practically lying outside, so of course, they would freeze, but surprisingly they only froze when it got below -13C (8,6 F).
This water pipe was lying close to the heat pipe but also super close to the cold air from the open ventilation holes, so if I didn't run the original heater, this water pipe would freeze much earlier. To prevent this water pipe from freezing so quickly, I put some extra insulation around it and the heat pipe to protect it from the cold air flowing through the vent; This gave me a couple of additional degrees until freezing.
In Summary, When Will RV Water Pipes Freeze While Camping
Suppose you have a motorhome, RV, or caravan made for winter conditions with good insulation, well-drawn water pipes, and heating pipes. In that case, you won't have a problem with frozen water pipes as long as the heater can keep the inside temperature up. For example, the famous winter motorhome builder Kabe tests their RVs down to -35 C (-31 F), so if it gets colder than that, you might have a problem.
On the other hand, if you have a motorhome that isn't made for winter camping like my Burstner I 531 from 1996, you will experience some frozen pipes after a night at -13 C (8,6 F) with the original heater running at 17 degrees Celsius (62 F). However, if you turn up the heater to 20 – 25 C (68-77 F) and use the tap a bit now and then during the day, you won't have a problem even at -20 C (4 F).
If you leave the motorhome maybe to go out to a restaurant or for an activity. In that case, you should be aware of the temperature outside and run your heater accordingly; I usually put it at the same temperature I have during the night when leaving it, which has worked well for me.
As you understand, there is no straight answer to this question since it varies between models and brands. Still, you can use these references and apply them to your motorhome to see whether it is a good idea to go winter camping at specific temperatures. And at what temperatures you should start paying more attention to water pipes, insulation, and the heater.
For example, If you expect -35 C (-31 F) and have a non-insulated motorhome, it is probably not a good idea to use the water system since it is going to freeze, but you can always winterize it and just use water jugs instead.